Lyra Rembrandt Polycolor Colored Pencils
12-72 count pack
Oil core
Round barrel
Premium-priced
Pros:
Pleasant Color Output
Above Average Blending
Nice, Thick Core
More Affordable than Most Other Oil-Based Colored Pencils
Cons:
Fragile Tips
A Little "Scratchy" for an Oil Pencil
Still Rather Expensive

Lyra Rembrandt Polycolor Colored Pencils Review
Updated by Brandon F. on October 5, 2023
The Lyra Rembrandt Polycolor Colored Pencils are another lovely addition from the German company Lyra.  One of our readers shared this set with us and, after learning about them, they immediately sparked our interest.  They are oil-based which we always like to see more of due to the unique and beneficial elements that oil cores possess. 
The core comes in plenty wide at 4mm, but the circular barrel is still relatively narrow compared to other brands.  They are available in singles up to a 105-piece set and fall into the premium price range.
Visual Appeal –
3.5/5
Being oil-based, it is apparent that Lyra Rembrandt Polycolors are designed to compete with the popular (and expensive) Caran D'Ache and Faber-Castell sets that also take advantage of oil cores.  After testing, we can confidently state that the potential color output is quite good with these and they are near if not equal to those other sets in color vividness and intensity. 
That being said, they do seem to require a bit heavier application to achieve these results (we will get more into this issue below).  As expected, color variations will depend on which set you go with.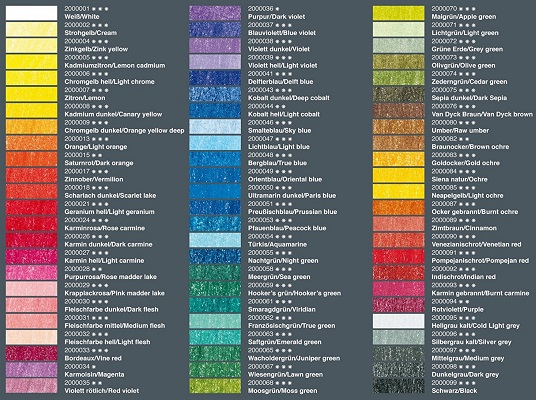 The largest sets (72 pieces and 105 pieces) have a lovely array of colors to meet the requirements of just about any setting or theme you are trying to create.  The 36 piece does lack some in the purples, reds, and pinks in our opinion.  You may be able to get away with these color gaps depending on what type of pieces and settings you tend to work on.  As for layering and color blending, being an oil core means that you don't have to deal with nearly as much wax bloom which helps to stick the color to the page and allows for better color stacking. 
You can achieve some nice results by simply mixing colors and seeing where it takes you.  Start with a light color application and slowly build from there.  One minor issue: there can be some variance between the labeled color on the pencil barrel and the actual color that is outputted so test the pencils on scratch paper before putting them to work on your final drawing.
Usability and Durability –
3.5/5
We have mixed feelings regarding this metric.  Being an oil-based colored pencil, you will enjoy a level of smoothness and "buttery" ness that most traditional wax-based colored pencils will never achieve.  However, these do feel a bit scratchier than Caran D'Aches and Faber-Castell Polychromos. 
This issue is particularly exacerbated on a thicker and rougher paper.  Also, we mentioned the higher required application pressure above.  While color output is good, you may find yourself having to push down a lot harder to achieve it.  This isn't inherently a bad thing since oil-based pencils aren't designed to put out loads of color in one pass.  Rather, you are intended to start with light strokes and "build" color upon it with additional passes.  However, those who have become spoiled on pencils that require little application pressure may be somewhat turned off by this.
There is also an issue of tips breaking.  The creaminess of an oil core can sometimes mean a softer tip which is more prone to break and not stay sharp for very long.  Combining this with the higher required application pressure means that you may find yourself having to sharpen these pencils quite often and also wearing them down much quicker.
Now for the positives: blending is very simple and quite effective here.  The larger sets come with two Lyra Splender blending pencils which do an acceptable job of blending colors.  However, you may find you get better results by using a third-party blender or simply blending with the pencils themselves. 
Also, Lyra Rembrandt Polycolor Colored Pencils have a thick core at 4mm but still manage to be a somewhat petite pencil overall, having a thinner outer shell than many other brands with similar lead thickness.  This is great for those with smaller hands or for those who simply prefer holding a smaller pencil due to the increased hand control you may have.
Packaging and Presentation –
3.5/5
These pencils come in a tin of acceptable thickness and have the thin plastic grooved shells that house pencils and that you have likely seen many times before.  Compared to other similarly-priced pencils we would put the storage container at about average.  The pencils themselves come in a round barrel that is mostly non-treated wood with the ends being dipped in color to match the core. 
For stamping, the trademark Lyra Rembrandt Polycolor name is displayed in black ink.  We do wish that they would have included more specific color information on the outside of the picture and also went with a more attractive stamp color such as gold or silver leaf but these are only minor complaints.
Cost – 
4/5
These colored pencils fall into the premium price tier.  However, they are noticeably cheaper than most other oil-based colored pencil lines.  You do sacrifice a few things to achieve this price point but the fact that they are cheaper may make them more attractive to someone just starting or wanting to test oil-based colored pencils without breaking the bank.  But compared to some of the top-tier oil-colored pencils on the market, you may notice subtle differences (particularly if you are a more advanced artist).
Overall Ranking – 
3.5/5
The Lyra Rembrandt Polycolor Colored Pencils are another candidate in the small (but growing) lineup of oil-based color pencils.  While there aren't a huge number of choices out there for people who want to try this unique type of core, the established brands that do exist offer up some excellent products that come in at a high asking price.  Lyra appears to try to offer what these more expensive sets achieve but at a somewhat lower price point. 
Overall, they do an acceptable job of it but do have some notable issues.  Color output is good and, while the application is noticeably smoother than most wax cores, it does fall a bit short of the premier oil cores.  There are also some issues with the lead breaking and higher required application pressure. 
That being said, blending is more than adequate and we like how Lyra was able to fit a beefy core into a pencil and still keep its overall diameter now.  This is a worthy candidate for someone starting on oil cores or someone who is on a tight art budget but for those after the absolute best at any cost, you may come away a bit underwhelmed.