Faber Castell Goldfaber Colored Pencils
1-48 count pack
Wax core
Round barrel
Mid-priced
Pros:
Relatively Vivid Color
Stronger Core
Good Price Considering Performance
Cons:
Limited Color Options
Wax Bloom After 3+ Layers

Faber Castell Goldfaber Colored Pencils Review
Last Updated by Brandon F. on July 19, 2023
Most of you are familiar with Faber Castell, particularly their storied premium pencil set, the Polychromos.  However, this article will be focusing on one of their more student-oriented sets, the Goldfaber.  The Goldfaber pencils utilize a more traditional wax-based core and come in at a more attractive price point while still promising many of the qualities we have come to expect from Faber Castell's more expensive sets.  Available in up to 48-count sets, this colored pencil has a round barrel and an average-sized core (more on that later in the article.).
Visual Appeal –
3.5/5
Since the core of the Goldfaber pencils is wax as opposed to oil, the laydown of color does have a different "feel" than the Polychromos.  Overall, the color is good although not quite as vivid as the more expensive Faber Castell. The color has almost a semi-transparent feel to it.  This transparency can be alleviated with multiple application layers. 
But the more layers you apply, the more wax bloom you will have to work out.  The wax bloom that you see with these pencils is a little different than we have seen with other sets.  It is less "waxy" and more "shiny".  After 3ish applications, color became more difficult to lay down.  This is by no means a dealbreaker but worth mentioning.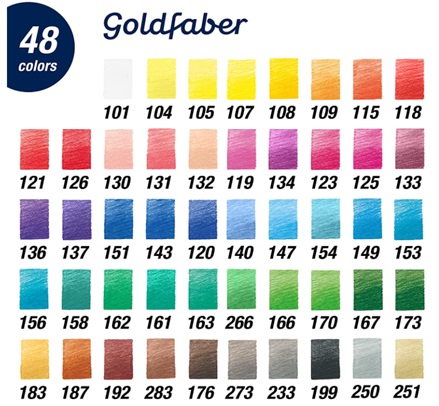 As mentioned above, there are up to 48 colors to choose from.  This is quite a bit smaller than some of Faber Castell's other pencil sets, so you will find some noticeable color gaps.  Limited are reds, natural colors (browns and tans), and dark colors.  You may need to have a backup set of colored pencils handy to work with in parallel with the Goldfabers. 
But on the flip side, you will find quite a few greens and blues.  We aren't sure why Faber Castell went so much heavier on these colors.  We wouldn't have minded giving up a color of the blue/green tones in exchange for some darker browns or yellows.
There are also smaller set sizes (singles, 12, 24, and 36).  As expected, the smaller set sizes will have even larger color caps.  So while the 48-count set will be the most expensive, we recommend going with it if your budget allows as the color gaps are less impactful.
Of the available colors, our favorite colors are Permanent Green 266, Burnt Ochre 187, and Carmine Permanent 126.  There are some minor differences in color intensity from pencil to pencil, but overall, the entire set is pretty consistent.  If we had to pick, we would say that the dark greens and red "pop" slightly more than the other colors.
We couldn't find any information on lightfast ratings.  Although Faber Castell has stated in the past that the Goldfabers have a good lightfast rating, we are unable to find specific ratings.
Usability and Durability –
3.5/5
Being a more student-minded colored pencil, Faber Castell had to go with a core that found a happy medium between sharpening ability, toughness, and optimal sizing.  In this regard, they have succeeded.
The core is quite soft and benefits greatly from Faber Castell's patented bonding process.  This helps to give some necessary strength while not impacting the creamy, soft feel that proper wax cores can possess.  However, the soft core impacts both sharpening ability and application.  All had a pretty creamy touch with the occasional bit of tougher material in the core. 
Using a hand sharpener, we were able to get to a pretty good point without removing too much pencil material.  We could not tell a difference in feel from pencil to pencil.  If you do plan on using these in a classroom setting, we recommend trying to incorporate hand sharpeners instead of electric.  The electric sharpeners, combined with less experienced young adults using them, will result in these pencils getting exhausted rather quickly.
We did find that sharpening the tip did result in a little more breakage than the Polychromos line.  Also, if you are someone who pushes down rather hard (which will be more common in a classroom setting), the tip may chip/break more easily than some of the lower-end wax pencils on the market.  But this is the price you pay for the added performance and color output of a softer core.
The core size comes in at approximately 3.3mm.  This is about middle compared to most of the pencils we have tested.  At this size, you should have no problem sharpening to a fine point for detailed areas.  And yet it is large enough of a diameter to put down a lot of color when necessary.  The barrel comes in at approximately 7.5mm and is round.  We know some people prefer a hexagonal barrel over a round barrel, especially in a classroom setting.
As for blending, we tried layering different colors to try to fill in the color caps in the smaller set.  Blending was decent but not at the level of Polychromos.  As we mentioned above, the wax bloom will play a role after 3 or more layers.  If you need to layer more than 3 layers, we recommend applying lighter pressure on the first 2 applications to minimize the sheen of the wax bloom.  We did not try out adding water or solvents to these pencils to see how the color reacted.  We are a little concerned that trying to add water to multiple layers could get a little messy.
Packaging and Presentation –
4/5
The Goldfaber Colored Pencils have a very clean look to them.  They have a matte grey/black outer shell with a color-matching base.  On one side of the pencil is the Faber Castell logo as well as the Goldfaber set name.  And on the other side is pencil model information and potentially a barcode depending on where you purchased the pencil (in particular if you bought single stock).
While we have no qualms with the styling of the pencil, we are a little disappointed that there is no information related to the color or the color code.  Also, as mentioned earlier, you won't find any data on lightfast ratings.
The pencils come in a tin container that has a similar thickness and build quality to the higher-end Faber Castell lines.  The 36-count pack comes with a single tray of pencils while the 48-count has 2 trays of 24 pencils each.
Cost – 
4/5
Being a more classroom-friendly pencil, you would expect the Goldfaber pencils to be more reasonably priced than premium pencils such as the Polychromos.  And that is the case!  While these are by no means budget pencils, they do offer noticeable savings over the traditional premium colored pencils on the market.  However, we do feel that there will still be some schools and teachers who feel that the asking price here is too high.  The true budget lines such as the Crayola and Prang will realize noticeable cost savings, particularly if you are buying in bulk to fully stock a classroom.
But at the same time, the Goldfaber pencils are a step up in performance and usability compared to the true budget pencils on the market.
Overall Ranking – 
4/5
We feel that the Faber Castell Goldfaber Colored Pencils strike a nice balance between price, performance, and usability.  While these are more student-oriented pencils, they have color intensity and layering ability that makes them suitable for more experienced artists as well.  The core is optimally sized and the wax/binder composition is strong enough to be sharpened but soft enough to retain some of the creamy texture that you've come to expect from more expensive colored pencils. 
We do wish that there were more color options.  And despite being a "classroom pencil", these are still noticeably more expensive than true budget pencils on the market.  As such, their target audience might be somewhat small.  That being said, we have no major negatives with the Goldfaber set and can confidently recommend them.