Best Colored Pencils – Reviews, Comparisons, and Buyer's Guide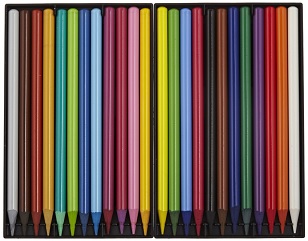 Last Updated by Brandon F. on August 25, 2023
Colored pencils have long been considered a staple in the art community.  They have a lovely combination of color output, blending ability, and intricacy.  But with so many choices, it can be hard to decide what the best colored pencils are or where to go for the best colored pencil reviews.  
To some, it can be a very overwhelming process trying to choose which product to go with due to the huge number of options and the fact that colored pencil reviews are scattered and never very consistent.  There can also be a variety of applications that you would use them for such as in a classroom setting.  Simply put, not all colored pencils are the same. 
There can be a lot of subtle and not-so-subtle differences that can make one pencil stand out from another.  There is a wide range of colors as well as various types of pigment, additives, and binding agents.  Some are meant to be used with water to blend while others are not.   Externally there can be variance in size, shape, available colors, and method of application.  And as I'm sure you already know there is a huge range in price!
This site is dedicated to making the buying process as seamless as possible.  You will not find a more thorough and all-encompassing review site on the internet.  We have extensive and informative reviews for all of the major colored pencil brands including Prismacolor, Faber-Castell, Derwent, and much more.  
Beyond that, you will learn a few new, interesting things about colored pencils while you are here.  Detailed reviews, comparisons, as well as general information and articles, are here to assist you.  You can browse our multiple colored pencil categories or if you would like you can head on over to our Colored Pencil Comparison Chart to see a convenient listing of all reviews on a single page!  As always, feel free to contact me if you know of another colored pencil that needs to be added to the review list and if you have some valuable personal experience with them that is all the better!

Faber-Castell Albrecht Dürer Watercolor
Pros: Color Intensity, Area Coverage, and Packaging
Cons: Expensive
Read Review of Faber-Castell Albrecht Dürer Watercolor Pencils
Prismacolor Softcore
Pros: Color Range, Good Blending, and Price
Cons: Nothing!
Staedtler Ergosoft
Pros: Durable, Saturated Colors, and Price
Cons: Blending can be Challening
Fantasia
Pros: Color Intensity, Packaging, Durability and Price
Cons: Somewhat Small Color Selection
Reeves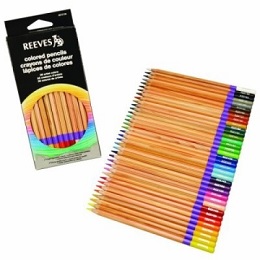 Pros: Durable, Good Colors, and Price
Cons: Blending, Color Selection
Sargent Art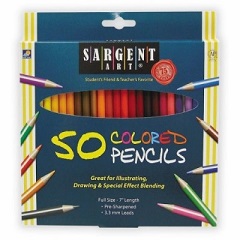 Pros: Color Accuracy, Variety, and Price
Cons: Lack of Intensity and Blending
Colored Pencil Reviews are based off of several important factors
Researching your next colored pencil purchase can be overwhelming.  There are just so many options available!  We break each and every type of pencil down into 4 easy-to-follow metrics: Visual Appeal, Usability and Durability, Packaging and Presentation, and Cost.
This metric encompasses the overall visual qualities of the colored pencil.  How intense are the colors?  Are a wide range of colors represented in a given set?  Do they blend well?  Is it good for shading and creating consistent hues across a large area?  How well does it fair in intricate areas?  These factors and many more play a part in this rating.
At lower levels some of these qualities may not be significant or even noticeable.  However, as someone becomes more advanced in their works and are after very unique color consistencies, depth characteristics, blending results, etc. these subtle differences could play a huge role in selecting which brand offering to go with.
This metric encompasses both how easy the pencil is to use as well as its durability.  Will the lead easily break under pressure?  How laborious is the process of blending?  Does color come off thick and creamy?  Does the barrel have a nice feel with good gripping ability?  All of these and more play a part in this rating.
Generally the lower-level pencils will actually be more resilient to heavy pressure since the cores are made of a harder wax.  This makes them better for a classroom environment where potential heavy and demanding use would exist.  There can also be potential hurdles with sharpening and tip breakage depending on the particular example so careful research needs to be performed to find what is right for the individual.
This metric is all about the aesthetics.  Do the pencils come in an attractive, well-constructed case or a cheap, plastic sleeve?  Is it easy to remove and reinsert pencils?  How do the pencils themselves look from the outside?  Is there clear, easy-to-understand labeling?  All of these type of considerations affect this rating.
Lower-end pencils will usually have pretty lackluster packaging.  This all boils down to their desire to keep the prices down and obviously if they were to go with fancy cases and elaborate printing then prices would have to go up.  The premium lines, however, make much more presentable offerings.  The tins or cases they use also double as good protection.
This metric is all about the costs.  Generally we will focus on the price per pencil.  For the quality, is the asking price a good deal?  Are you getting an acceptable, long lasting product with your purchase?  This is obviously a huge factor to consider.
Costs can vary greatly, with ranges from as low as around $0.20 and up to several dollars per pencil.  For many the benefits of the premium lines are not justifiable enough to spend what can amount to a significant amount of money on a set.  For others who only expect and can utilize the best, the high price tag is simply the cost of admission.  Careful self-observation and analysis needs to take place to see where the best target price for you is at.
All Colored Pencils are categorized by Competency Level
To further simplify matters, the pencils reviewed are broken down into three categories: Student-Grade, Scholastic-Grade, and Professional-Grade.  Each of these has unique pros and cons that make them great for certain situations and less than stellar for others.  Which is right for you?
Professional-Grade
-The most expensive option, with pencils usually costing around $1.00 up to $3.00 and more
-Extremely soft, oil or wax-based cores that have a buttery feel and very dynamic blending
-Large color selections with and many specialty or theme-based sets
-Very sensitive to pressure and can be more of a challenge to use and maintain
-Colors are generally very intense and can be varied greatly
-Packaging is usually very nice, oftentimes in metal or wood tins
Scholastic-Grade
-Prices fall in between those of student and professional pencils (generally around $0.50 to $1.50)
-Softer cores allow for thicker application and more advanced blending techniques
-Not as durable and more sensitive to pressure application
-More exotic and specialized color options and core thicknesses available
-Better presentation and packaging 
Student-Grade
-Affordable, with prices generally being around $0.20 to $0.60 per pencil
-Generally have harder cores which can hold up to more abuse
-Oftentimes not capable of the more advanced blending techniques or do so poorly
-Colors can sometimes be somewhat light and waxy
-Limited color options and what does exist is pretty standard
We Do the Research and Testing So You Don't Have To
Trying to review each of these colored pencil sets individually is nearly impossible.  The time and money you would spend in doing so would become very large quite quickly.  We do the hard work and simply share our results with you.  You can only tell so much from a set of colored pencils from the box or by looking at pictures.  The best way to really know how the performance will be is to read reviews that apply to actual real-life performance of that particular set.
Up to Date Colored Pencil News and Articles
Beyond this, we also post timely articles related to colored pencils and also review other products related to colored pencils such as the best colored pencil sharpener, the best colored pencil holders, and much more.  Our goal is to make this the hub for everything related to our beloved art and also keep our readers informed of important news and changes that often occur.