Black Widow Colored Pencils
24 count packs
Wax core
Hexagonal barrel
Mid-priced
Pros:
Competitively Priced
Clever Packaging
Unique Colors
Good Performance (for the price)
Cons:
Sort of Forced to Buy Multiple Sets
May be Difficult to Identify Colors

Black Widow Colored Pencils Review
Last Updated by Brandon F. on February 1, 2023
We never thought that there would be a day that we would be reviewing a set of colored pencils with the name "Black Widow" in them, but here we are!  Black Widow Colored Pencils are comprised of three different sets: The Spider Original Set, the Scorpion Edition Set, and the Cobra Edition Set.  All three sets come with 24 colored pencils of unique colors.  They have a wax core, have a 3.3mm lead, and are in the mid-price range.
Visual Appeal –
4/5
Black Widow Colored Pencils are aiming to compete in the budget to mid-range and more beginner-friendly markets.  Because of this, you won't find quite the level of intense color that you may be used to seeing on some of your professional or artist-grade pencils.  However, that doesn't mean that Black Widow Colored Pencils aren't quite capable (more on that later).
As we mentioned above, there are three different sets of Black Widow Colored Pencils to choose from. 
Black Widow Original Colored Pencils
The first set (and the one that we have the most experience using), is Black Widow's Spider Original Set.  Out of the three sets available, this will be the most generic set when it comes to color options.  It tries to tap into the full spectrum of colors.
Being only 24 colors, there will be some noticeable color gaps.  This is simply the sacrifice that you make when you go with such a small set of colored pencils.  We found that the selections of yellows and oranges were pretty good.  But it is lacking some when it comes to greens.  In particular, we enjoyed the colors "Lady Bug", "Pumpkin", and "Water Melon".  The black color (approximately called "Black Widow") produces about average levels of black.  If you are really after some deep hues, you may have to pass over 2 or 3 times.
With the colors available, you can do just about any time of work that you so desire.  However, you may struggle a bit with pieces that require various shades of greens and browns (such as landscapes).
Black Widow Scorpion Edition Colored Pencils
The next set is called the Scorpion Edition set.  Almost as if they heard our complaint about the first set, the second set focuses more on "earthy" colors.  Also available in 24 pencils, the Scorpion set expands on the greens by adding multiple new shades including "Grub Green", "Irish Green", and "Olive Green", to name a few.  It also adds to the already relatively large repertoire of yellows from the first set and expands on a few more browns and skin tones.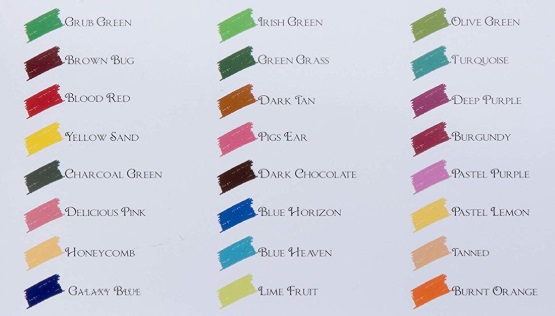 We feel that the colors chosen for the Scorpion set do an excellent job of filling the color voids from the first set.  With 48 pencils (in combining the two sets), you are starting to get into a set size that we are more accustomed to using, and one that can address all scopes of the color wheel.  If your budget only allowed for 2 out of the 3 Black Widow Colored Pencil sets, we would recommend going with the Original set and this Scorpion set.
If we had to be picky, the one aspect still lacking from these two sets is a proper selection of neutral colors. If you are somebody who prefers to do cityscapes or industrial pieces, the lack of neutral grays will probably turn you off some. 
Black Widow Cobra Edition Colored Pencils
That brings us to the final set: The Cobra Edition set.  Sure enough, Black Widow heard our call yet again and created a 24-piece set that focuses on enhancing light and dark colors.  Within this set, you will find a larger selection of darker and neutral colors such as "Charcoal", "Dem Grey", "Flat Black", and "Forest".  In contrast to this, there are also many bright colors.  There a are bunch more reds and yellows and a lonely green that is cleverly called "Venom" that completes the set.
We feel that the Cobra Edition Set adequately fills what remaining color voids that existed from the first two sets.  If you were to purchase all three sets, it would be the equivalent of picking up a robust 72-count set.  And in very few cases people complain about not being able to find the proper color in 72-count sets of colored pencils!
That being said, we still do have some critiques about the available colors.  For whatever reason, Black Widow loads you up with yellows.  Yellows are one of, if not the most predominant color in all three sets.  We feel that the yellows available in the first 2 sets would have been adequate for most people.  In the Cobra Edition set, there is a selection of yellows that for many people will be nearly indiscernible between one another.  You will see this when comparing "Cobra" to "Nugget", for instance.  We feel that a few of these yellow slots could have been better used expanding on greens, blues, or more grays. 
Also, we wouldn't have minded if Black Widow included a flat black and white in all three sets.  As of right now, only the original set comes in white and black.  Seeing how white and black are oftentimes the most used color that an artist uses, we feel that each should be included in a set of colored pencils.
Now that we have discussed the sets and their available colors, let's elaborate on how well these pencils produce color.
Compared to other pencils in this price range, Black Widow Colored Pencils perform quite well.  On your first pass, you should enjoy decent levels of color vividness.  This is even more so in the brighter colors.  Oranges, yellows, and reds seem to do the best at producing appropriate levels of colors on the first pass.
With the darker colors, we found that making an additional pass (or sometimes two additional passes) was necessary to get the proper depth of color that we are looking for.  Since these are wax pencils, the bloom is always a concern.  We were able to stack 4 to 5 layers before the tackiness of the wax bloom started.
On the opposite extreme, applying very subtle pressure still produced color.  This is a good method to use for areas of a piece that you don't want to "pop", and is much less laborious than applying a color and having to blend it with a solvent or a white pencil.
We couldn't find any information related to lightfastness.  Some long-term testing would need to be conducted to get a better idea of this.  The color that we saw seemed to be pretty intense and we wouldn't be surprised if it lasted for many years but until testing was performed, we wouldn't be able to guarantee that with absolute certainty.
Usability and Durability –
4/5
Black Widow Colored Pencils come with a 3.3mm wax core.  This is about the average size for a core in our experience (and coincidentally is right around our favorite diameter).  At this size, you have a core that is small enough to still allow for reasonable user control but large enough to make it possible to color larger areas of the canvas without exhausting your hand.

The barrel is hexagonal instead of round.  This is a personal preference, but we tend to like hexagonal barrels more than round as they are easier for us to hold.
The wax that is used is of nice quality.  When you push the pencil down, the application is quite smooth.  We didn't experience any of the "chunks" that you may have in some of the lower-end pencils on the market.  That being said, this isn't the buttery feel you will see with premium wax pencils or many of the oil pencils on the market.
We didn't experiment with any blending using solvents or water.  However, we did try blending multiple pencils.  We found that these did an acceptable job of blending.  As for stacking, we recommend starting with your lighter colors and blending upwards with darker colors as opposed to the other way around.
Now on to durability.  These pencils were about average when trying to sharpen.  The wax core is relatively hard to it may want to chip when you are sharpening it to a fine point.  So if you are someone that likes to have an extremely fine point, we recommend using a manual sharpener that is designed for colored pencils and taking your time while sharpening.
The good news is that once sharpened, these pencils could be worked a lot before having to go back to the sharpener.  And you can apply a good bit of pressure without the tips wanting to break off.  This is great for helping to maximize the life of these pencils and ultimately your art supply investment.
Packaging and Presentation –
4.5/5
Easily the most notable design feature of Black Widow Colored Pencils is the pencil barrels themselves: they are completely black!  Even the inner wood shares this similar deep black color.  While Black Widow certainly isn't the first to incorporate colored barrels into their design, they are one of the few that are taking it to this extreme.
Whether you find the all-black to be attractive or not is up to personal preference.  We think it is cool!
On the barrel of the pencil, there is gold leaf stamping of the brand, color, and color code.  One area that we were concerned about (and that we began to experience) is that over time the stamping may be prone to chip or fade.  If this does happen, it may become difficult to know what color pencil you are working with.  The black wood can help in this regard if the pencil is a lighter color, but for darker colors, the black wood can make it more difficult.  You can get a rough idea of this in the image below when trying to decipher the different hues of grays and blacks just based on the color of the tip.
The packaging of Black Widow Colored Pencils is an attractive tin case.  Inside this case, the pencils lay on a thin plastic film with corrugated grooves.  This is the standard packaging that we like to see for colored pencils and indiscernible from the packaging that you will see in much more expensive pencils.
Cost – 
3.
5/5
Considering the good color output, nice color choices (if you buy multiple sets), and overall presentation, Black Widow Colored Pencils are priced very competitively.  They are a step more expensive than your ultra-budget pencils from brands like Crayola, Reeves, and Prang.  But they are noticeably cheaper than your professional colored pencils from the likes of Prismacolor, Faber-Castell, etc. And coincidentally, you will find that the performance falls in between those two categories.
The real target here is for beginners to intermediate artists who are wanting to step up to a more capable set of colored pencils than what they used in elementary school, but that isn't ready to open up their wallets to one of the ultra-high-end sets.  This is an ever-growing niche in the market, so we aren't surprised that Black Widow wanted to target it.
The one caveat is that, as discussed above, we recommend going with a minimum of two of the three Black Widow sets to have a truly viable standalone set.  This means doubling your monetary investment for double the pencils.  They are still reasonably priced when considering that, but it will mean a slightly higher initial monetary investment.
Overall Ranking – 
4/5
We enjoyed trying out Black Widow's lineup of colored pencils.  Each of the three sets (Original, Scorpion, and Cobra) all bring something unique to the table.  But being only 24 pencils each, they will have some color gaps.  For those of you who are ready and able to invest in 2 or 3 of the sets, you will be welcomed with a nice array of colors that can tackle just about any art piece that you can think of.
The performance of these pencils is quite capable for their target audience. The color output is good and the blending between various colors is serviceable as well.  We didn't experience much wax bloom until you start heavily layering.
The durability and ease of use of these pencils are also quite nice.  They should hold up to typical wear and tear.  We didn't find any glaring issues with using them either in detailed pieces or more broad pieces where spreading large amounts of color is necessary.
The packing of Black Widow Colored Pencils is clever.  It's not every day that you will see an all-black pencil. 
The price per pencil is comfortably in the mid-price range.  And considering all of the above, this is a very reasonable asking price.
These are a solid set of colored pencils for anybody from a beginner to an intermediate artist.