Holbein Artist Colored Pencils
12, 24, 36, 50, 100, and 150 count pack
wax, oil, and fat core
round barrel
premium-priced
Pros:
Extremely soft, buttery application
Great variety of bright colors
Vibrant color output
Barrel color accurately matches core color
Cons:
Extremely expensive
Don't blend super well
Somewhat lacking in browns and grays
Can be a bit messy

Holbein Artist Colored Pencils Review
Updated by Brandon F. on July 1, 2020
*Please note that as of late, there have been some issues with delivering Holbein Colored Pencils to US residents.  We will update this page as we receive more information.*
The Holbein Artist Colored pencils are a very interesting colored pencil set in that they combine multiple ingredients including wax, fats, and oils to their pigments for their cores.  The result is a unique experience that has to be tried to appreciate. 
The color selection is vast as the sets are quite large so most people should find the colors that they need.  They are very expensive, however, so they may be out of some people's colored pencil budgets.  They come with a round barrel, have a 3.8 mm core, and are available in sets of 100 and 150.
Visual Appeal –
4/5
The color output is incredibly vivid.  The concoction of oils, waxes, and premium pigments results in a very thick layer of color that really "pop" off the page.  You don't have to even try with these to produce this deep and powerful tone.  This feature makes these very good for vivid pieces or for certain aspects of a drawing that you want to stand out.
The sets are quite large so you will have a lot of colors to choose from.  This is particularly true in brighter colors such as yellows and purples.  There is also an abundant supply of specialty colors such is Easter greens and pinks.  While we don't find a need for many of these colors in a typical art piece, they may be perfect for you. 
They are lacking in some of the darker colors such as gray and brown, though (this is mostly an issue in the 100 count sets).  Also, blending isn't great with these so if there are any color combinations that you are after that require combining pencils you may struggle to achieve them.
Usability and Durability –
3.5/5
These are some of the smoothest colored pencils we have come across.  The application is extremely buttery and soft and they are a lot of fun to experiment with.  That being said, they do struggle a little bit in keeping a sharp point due to being so soft which can make them a bit challenging to use in areas that require close detail.
Also, as mentioned above, they don't do a very good job of blending, and more than a couple of layers on top of each other result in a bit of a mess.  While this is an obvious tradeoff that you have to have when it comes to softer leads, there are better options out there for those who enjoy blending. 
We did find that using certain thicker solvents can yield some interesting results.  Specifically, these can almost behave like a watercolor pencil in how the solvent interacts with the pigment.  With some practice, you may be able to take advantage of this and produce some cool results.
Packaging and Presentation –
4.5/5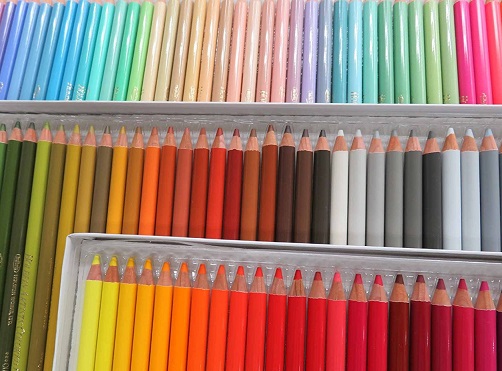 The Holbein Artist Colored Pencils come in an attractive but simple cardboard box that consists of multiple racks for the pencils (the racks typically hold 50 pencils each).  There is a helpful chart located under the lid of the box that makes for easy identification.  The pencils themselves have a very attractive outer shell that accurately matches the true color output of the pencil. 
The brand and color identification is stamped in gold on the side of each pencil.  There is also a small gold circle towards the bottom that doesn't serve a purpose but looks nice.  This all combines for a wonderful package that we enjoy.
Cost – 
3/5
These are extremely expensive pencils.  There isn't any other way to put it.  However, the high price comes in part due to the unique and exotic cores that you really can't find with many other pencil brands.  Also, other premium brands that cost quite a bit offer smaller sets for those who want to try them out without paying a huge asking price but Holbein doesn't offer this. 
This is a "total package" and those that can afford it will be gifted an abundant supply of colors to choose from.  But for those who want to give these pencils a test drive, you may be out of luck unless you purchase from a store that sells individual pencils.
Overall Ranking – 
4/5
The Holbein Artist Colored pencils attempt to stand out in the competitive premium-priced colored pencil category by providing interesting cores and huge color selections.  We really could tell the difference that the wax/oil hybrid core brings to the table.  By capturing the best of oils and the best of waxes, you can take your art game to the next level.
The colors available put out an awesome color that seems to jump off the page and stroking the pencil on paper is a joy to try due to how buttery smooth they are.  We do wish there were more selections in dark colors in the smaller set and that blending was more on-point, though.  The high asking price will scare some people off but for those willing to bite the bullet, you will experience a truly unique pencil that you won't find anywhere else.