Tombow Irojiten Colored Pencils
1-30 count pack
Wax core
Round barrel
Premium-priced
Pros:
Great if Using for Intended "Themes"
Beautiful Presentation
Cons:
 Expensive
Very Poor Color Variety
Somewhat Light Application 

Tombow Irojiten Colored Pencils Review
Updated by Brandon F. on July 13, 2020
Tombow is a Japanese-based company, and from looking at their colored pencils you can feel the Asian heritage injected into them.  Their colored pencil sets range from singles up to 30 pack sets, with the larger sets focusing on certain ideas such as "rainforests" or "woodlands".  The medium wax core allows for good color application and decent blending.  The addition of additives to the pigment can give off good color, although nothing extraordinary.  The core is wrapped in a round wooden shell.
Visual Appeal –
3/5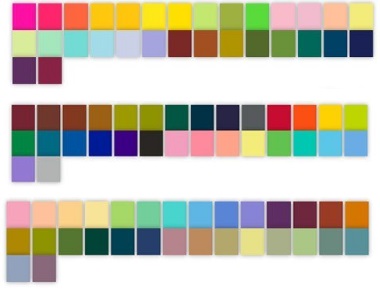 The color choices can be quite limiting, even in the largest sets of 30.  This is because Tombow decided to build the sets around certain scenes (in this case "rainforests", "woodlands", and "seascapes").  This is great if you are doing one of these scenes, but what if you want to paint a portrait?  Or a cityscape?  You could run into some major issues with not having the right colors at your disposal.
The colors that are present are rather unique and will be hues that you will likely not find in many other sets (even ones much larger than this).  If we had to describe the overall colors it would be that they are gentle and earthy.  You won't find a lot of colors that "pop" simply because there aren't a lot of neon greens or bright pinks in Mother Nature.
The core of these pencils is a "medium" hardness which allows for decent blending and applying various levels of pressure will result in a pretty dynamic range of color depths.  The core could be a bit softer to assist in better blending but it is still serviceable.  However, don't use the color marked on the pencil as a representation of the actual output because what comes out on the paper can look different than what the label shows.  And when you begin to blend them, the colors will fade into even lighter colors (which can become too light in some cases).
Usability and Durability –
3.5/5
Overall the application process is pretty smooth, albeit a bit waxy.  This makes it much easier to be consistent with color for areas such as skyscapes and smooth, solid surfaces.  The color can be a bit on the light side, so increased pressure might be necessary to get the desired color depths. The core is hard enough to hold up to many application cycles and it sharpens fairly easy.  It would have been nice to have a hexagonal exterior to assist with handling but this is a minor complaint.
As for mixing with water and solvents, it doesn't do much here.  Solvents are preferable over water but we recommend sticking to dry applications with these.  By the time you get the spread that you are looking for, you are likely to have soaked your paper with too much water or solvent.  And good news: there is little in the way of wax bloom.
Packaging and Presentation – 
4.5/5
The Tombow Irojiten Colored Pencils come in an attractive case with grooved channels for each pencil.  Depending on which set you go with, the exterior of the case will have a different color tone to it which helps easily identify them and also makes them almost appear like a set of books.
The pencils themselves are very attractive.  They have a white exterior with a colored base for identification purposes (although as mentioned earlier the color doesn't exactly match what comes out on the paper).  There is also the necessary information stamped on the side of the pencil in silver ink.  This has to be one of the more attractive barrels we have seen in the industry.
Cost –
2.5/5
These pencils are pretty expensive, getting well into the premium range.  This puts them squarely in the price range of many of the top-of-the-line artist pencils on the market.  When you are paying that much for a pencil you should expect a very high-quality product in all accounts.  While these aren't bad by any means it is hard to make a case for choosing these over some other options if you are looking to spend that much.
Also, it is important to remember just how lacking a given set will be.  You need to purchase all three sets to get the full effect and even that will have some major color holes that you will need to fill with other colored pencils sets.
Overall Ranking –
 3.5/5
The Tombow Irojiten Colored Pencils are an attractive pencil on the outside and not terrible on the inside, but due to lack of exceptional blending, somewhat light color output, and the poor color options in a set, these wouldn't be at the top of our list for someone looking to purchase some artist-grade pencils.  At this price point, we are allowed to be pickier.  However, the approach is original and with a few small tweaks, this could be a definite buy in our book.
We will admit that the colors present are unique and if you are wanting to draw one of the specific scenes that the set is designed for, it is just what the doctor ordered.  But outside of that, these are just a good add-on set to someone who already has a full range of colored pencils for more traditional roles.