Cretacolor Marino Watercolor Pencils
12-36 count pack
Wax core
Round barrel
Lower premium-priced
Pros:
Great Blending
Bright Colors when Applied Dry
Well-Constructed
Cons:
Loses a lot of Intensity When Water is Applied
Lack of Color Options

Cretacolor Marino Watercolor Pencils Review
Last updated by Brandon F. on March 29, 2023
Another one of Cretacolor's popular pencil sets is their Marino Watercolors.  From what we understand, these series were rolled out after the introduction of their traditional pencils and pastel pencils.  Similar to many other watercolor pencils that you have tested, Cretacolor incorporates more water-soluble components to the lead.  This results in superior blending and color application when using water.
One of our favorite aspects of other Cretacolor pencils is that they provide good blending for the price.  This seems to be one of Cretacolor's top priorities when designing their pencils. 
These pencils come in 12, 24, and 26-count packs, have a round barrel, are made of a wax-like core, and just skirt what we consider the premium price range.
Visual Appeal –
3.5/5
When you are looking for a solid watercolor pencil to add to your art toolbox, there are two major color-related aspects that you should consider: color intensity before applying water and color after applying water.
When it comes to pre-water, Cretacolor Marino Watercolor pencils are bright enough for most people's needs.  The color intensity does vary from pencil to pencil but overall is quite serviceable.  In particular, we enjoyed the reds and blues.  Probably our favorite colors were Prussian Blue and Permanent Red Dark.  They produce a deep color that fills up the page. 
We were a bit less impressed with the greens and yellows.  Despite pushing down hard, the color intensity just wasn't there to our liking.   Adding multiple layers helped but then you run into the risk of having too much wax buildup.
Despite mixed feelings about the color intensity, Cretacolor does promise solid lightfastness ratings on most of their pencils.  This color should last for several years unless you leave your artwork directly exposed to strong light for a long time.  The pencils come with a lightfast rating that ranges from "LF1" to "LF5".  LF1 is the most lightfast and LF5 is the least lightfast.  Most of the pencils are either LF1 or LF2 which is quite good.
When water is applied, the color lightens up some.  The problem that we ran into was that oftentimes the color would become TOO light.  This then required us to go back and layer on more color.  This can quickly turn into a big mess and it makes it easy to lose control of the art piece.
If you plan on using water with these (which you should!  They are watercolor pencils after all), then start with a very small amount of water.  This should help you have better control over how light you make the color.
As for color choices, the largest set size only comes in at 36.  We typically have seen that watercolor pencil sets run a bit smaller in quantity than most colored pencil sets.  Part of this has to do with a smaller target audience and another part has to do with the fact that it is easier to blend the colors to fill in the color gaps.
While that is the case, we still would prefer to have some larger sets to begin with so that isn't always necessary. 
The largest 36-count set has a good selection of yellows and reds.  However, it is lacking a bit in greens and more natural colors such as dark browns. 
These gaps are even more apparent in the smaller sets.  If money is tight and you can only swing the 12-count set, then expect some major color gaps that even proper blending might not be able to adequately fill.  You will likely have to supplement the smaller sets with additional colored pencils that you already possess.
Usability and Durability –
3.5/5
From a durability standpoint, these pencils seem to hold up decently well.  We would consider their hardness "middle of the road".  In other words, they aren't super fragile like some of the creamier oil-based pencils that we have tested.  But at the same time, they won't be rock hard like some of the stronger wax pencils that we have tested.  We like this level of hardness as it seems to hit the middle ground of what most people are after.
The lead comes in at 3.8mm which puts it about average as well (if not slightly below average).  With a core of this size, you will be able to tackle both larger areas where you need a lot of easy color application as well as being able to have enough hand control in the more intricate areas of your artwork.
We had no problem sharpening the core to a good point using a quality hand-mechanical colored pencil sharpener.  We also found that even with a sharp point, you could push down moderately hard without the tip breaking into a million little pieces.
As we mentioned above, the real shining point (and purpose) of these pencils is to add water.  While you will struggle a bit with the color becoming too light, we did find that layering and blending the colors was quite simple and a lot of fun.  We came up with some unique results mixing various blues, reds, and yellows with a bit of water.  We also tried experimenting with some solvents but found that just using water had the best effect.
The round barrel comes in at 7.5mm in diameter. This is again pretty average for the industry.  We have a slight preference for hexagonal barrels over round barrels (due to a better grip) but this is a minor gripe.
Packaging and Presentation –
4/5
The Cretacolor Marino Watercolor Pencils come in a lovely light blue main barrel color.  At the base of the pencil, there is a color-coordinated dip that is supposed to match the color at the tip.  We felt that the color at the base exaggerated the intensity of the true color output a bit.  Right above this area is a silver stripe that is more of a transition than anything else. 
On the main barrel area, you will find the Cretacolor logo, the pencil type (Marino), the country of origin (Austria), and a little aesthetic of the tip of a paintbrush (to signify that these are watercolor pencils).  If you flip the pencil over, there is a bar code, the color of the pencil, the lightfast rating, and the color code of the pencil.
We have seen some other examples of these pencils where they came with a dark gray barrel instead of light blue.  We aren't sure when the transition happened but as far as we can tell, the insides of the pencil remain the same despite a differing outer barrel.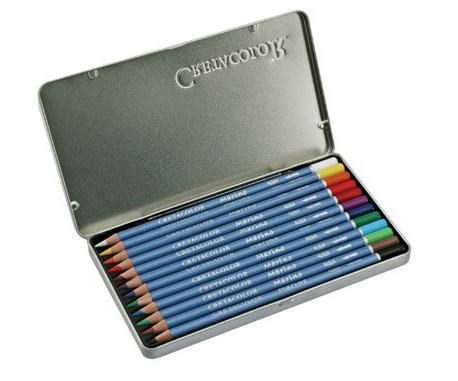 The pencils are stored in a pretty standard tin case.  There is an embedded thin plastic tray with grooves to lay the pencils in.  This helps to keep them from bumping into each other and also assists with categorizing them.
Due to the smaller size of these sets, you won't find multiple layers of trays.  We prefer this as it is much easier to handle and transport.
Cost – 
3.5/5
The price of a new set of pencils is always a consideration when shopping around.  In other Cretacolor pencils that we have tested, they seem to target the upper mid-priced range and lower premium-priced range.  And that is again the case here.
Since these sets are on the smaller side, the overall cost of them isn't huge.  However, you need to remember that you aren't getting 70+ pencils with these sets.  So they are a good way to be introduced to a new set of quality watercolor pencils (in small quantities) without breaking the bank.
Considering the overall performance and applicability of Cretacolor Marino Watercolor Pencils, we feel that the asking price is fair.  There are superior watercolor pencils out there, but they will tend to cost much more.  Conversely, many budget pencils won't blend as well.  For someone who is not an absolute beginner but wants to step up to a bit more capable watercolor pencil, the Cretacolor Marino Watercolor Pencils are priced at a good level.
Overall Ranking – 

3.5/5
The Cretacolor Marino Watercolor Pencils did some things quite well and struggled in a few areas as well. 
We enjoyed how well the pencils blended.  Just a tiny bit of water goes a long way with these.  This allows you to spread out a lot of color with just a few strokes and a dab of water.  It will also help to make these pencils last a bit longer.
These pencils are also pretty good quality.  The cores held up just fine during our use.  The lead recipe takes advantage of high-end pigments that produce good color intensity in the blue and green colors.  This results in some solid lightfast ratings which means that the pencil color should stay intact for many years.
However, we did have some minor gripes.
The color intensity, while acceptable dry, does struggle some once water is applied.  One should expect a bit of fading when adding water.  But the result with the Marino Pencils was a bit more severe.  We found that we had to go back and try to add more color after the fact to get the intensity back up.
We also wish that there was a larger color selection.  Even the largest size coming in at 36 pencils did result in some missing colors that we find are quite necessary for artwork that involves outdoor settings.
All in all, these are a good choice for intermediate artists who is wanting to hone their skills in blending with watercolor pencils.  The blending ability alone can justify purchasing a set of these.  And while they aren't the cheapest out there, the fact that the sets are on the smaller side does bring down the overall impact on your wallet.