Derwent Procolour Colored Pencils
12, 24, 36, 48, and 72 count packs
Wax core
Round barrel
Premium-priced
Pros:
Extremely intense color
Great balance between broad color and control
Very attractive
Cons:
Can be a little expensive
Will need to go with one of the larger sets to not have color gaps

Derwent Procolour Colored Pencils Review
Last Updated by Brandon F. on June 1, 2023
The Derwent Procoulour Pencils are one of the newest entries into the already storied collection of premium Derwent Colored Pencils on the market.  This particular set aimed to try to find a happy middle ground between the hard and controlled cores found in the Derwent Artist lines and the softer and more pigmented cores found in the Coloursoft series.  The result is an extremely versatile pencil that feels right at home in just about any setting.  Asking prices fall into the high intermediate to premium price tier.  They come with a 4mm wax core.
Visual Appeal –
5/5
As is typical of set sizes, you will have limited color choices in the smaller sets.  And with the larger sets, the color availability will open up much more.  With the Procolour Series, you can choose from a 12 pack on the lower end up to the 72 pack on the upper end.

The smallest size, the 12 pack, really only offers your most essential colors.  These include colors such as Buttercup Yellow, Deep Chrome, Primary Red, and, of course, Ivory Black.
As you move up the set sizes, your color availability will of course increase.  We feel that the 36-pack is the first set size that is large enough to be self-sustaining.  In other words, you won't feel like you are having to use other sets or perform clever blending to find your desired color.
In particular, the 36-pack brings to the table quite a few more greens, yellows, and blues.  Some of our favorite colors in this set include Prussian Blue, Racing Green, and Sunset Gold.  However, all of the colors will appeal to different people.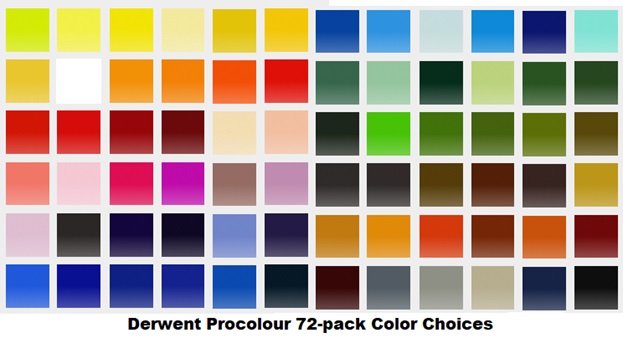 If your budget allows, we highly encourage that you spring for the 48 pack or even the largest 72-pack set.  The 72 pack set is quite fantastic when it comes to its color range.  It seems to pretty evenly cover the entire color spectrum (even better than some of the 100+ count sets that we have reviewed from other brands).
As you can tell from the above image, you will have a nice selection of deep blues, radiant reds, and plenty of earthy browns and greens to work with.  If we had to be extremely picky, we would say that there could have been a couple more pinks or purples added.  But this is only a minor complaint.
Derwent also released an extremely helpful color chart.  This chart not only shows you what colors you will receive with what set but it also includes other helpful information such as lightfastness ratings.  We are receiving more and more questions about the lightfastness ratings of various pencils so whenever a brand will openly share this information, it is extremely helpful.
As you can tell from the chart above, Derwent has lightfastness ratings that go from 1 to 8.  A rating of 3 or 4 represents a fair to moderate lightfastness rating.  A rating of 5 or 6 represents a good to very good lightfastness rating.  And a rating of 7 or 8 represents an excellent lightfastness rating. 
In the largest Derwent Procolour set, there are only 7 colors that fall below the "fair" lightfastness rating.  What this means is that these colors should not only be vivid but stay vivid for long periods. 
Now that we have discussed what colors you get with a particular set, let's talk about the actual color performance.
Since one of the goals of Derwent's Procolour pencils was to capture the impressive color that their Coloursoft series has, then it was important that the colors really "popped" when you apply them. 
After thorough testing of many of the colors, we can happily say that they have achieved this goal!
You will find that these pencils, particularly in the brighter colors, absolutely explode with intensity when you apply them.  The yellows and oranges seem to come off the page when you push down heavy with them.  This can make landscape scenes that include bright flowers or exotic birds take on a whole new element.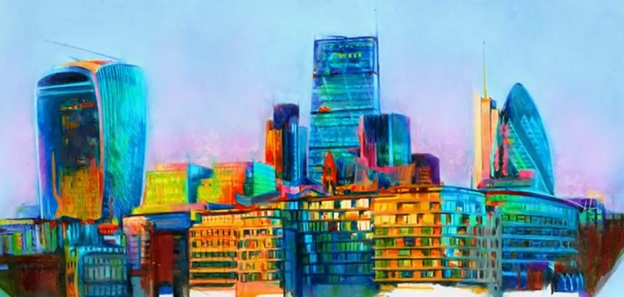 Conversely, the darker greens and blues deliver a deep, immersive layer of color.  You may find that in some cases the color comes off too dark at first.  The remedy to this is to use less application pressure (more on this in the next section).
If your budget doesn't allow for one of the larger sets, you will have to deal with the color gaps that exist in any smaller set of colored pencils.  We have found that these pencils blend quite well to fill in these gaps (we will also talk about this more in the next section).
Usability and Durability –
4.5/5
While it is apparent that Derwent Procolour Colored Pencils have captured much of the magic from the Coloursoft line, the other half of the equation boils down to usability.  A common complaint with the Coloursoft pencils was that they were TOO soft.  They were great for applying vivid color over large areas but sometimes struggled with detailed applications or keeping a sharp point.
To combat this issue, Derwent has made their Procolour Colored Pencils firmer than their Coloursoft Pencils but not to the point of their Artist Pencils.  The result is a pencil that can produce great color but also allow for better user control.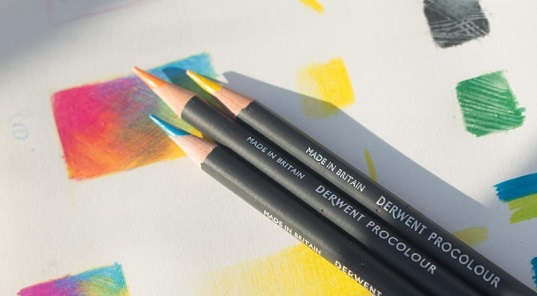 You will find that sharpening these pencils to a fine point is a much simpler task than with the Coloursoft pencils.  They will also keep that point and allow you to apply more controlled strokes.  This is essential for intricate areas of your art piece. 
That being said, you will also be able to use them for larger areas of your canvas where you are simply wanting to apply a lot of color with minimal effort. 
The core comes in at 4mm which is a nice balance between being small enough for control but large enough to produce adequate levels of color per stroke.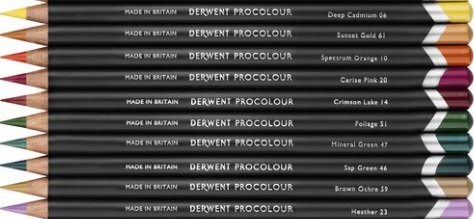 Blending with these pencils is quite good.  The wax that is used not only sticks well to paper but also plays nicely with its neighboring colors.  We found that you could stack 4 or more layers of color up before major wax bloom set in. 
We briefly experimented with some solvents and they seemed to communicate well with the colors.  We didn't notice any major bleeding effect and the hues that we used stayed intense even after being diluted from the solvents.
We also tested these pencils with different levels of application pressure.  A common complaint of more brittle pencils is that they may keep a sharp point but tend to "snap" when pushed down too hard.  The other extreme of this is extremely soft pencil cores that won't keep a point with even moderate pressure.
It is no surprise that they behaved right in between the Derwent Artist pencils and the Derwent Coloursoft.  They will hold up fine with light to moderate application pressure.  It is only when you push down hard that you may experience the lead breaking prematurely.  Thankfully, since these do produce such intense color, you shouldn't find yourself needing to push down extremely hard.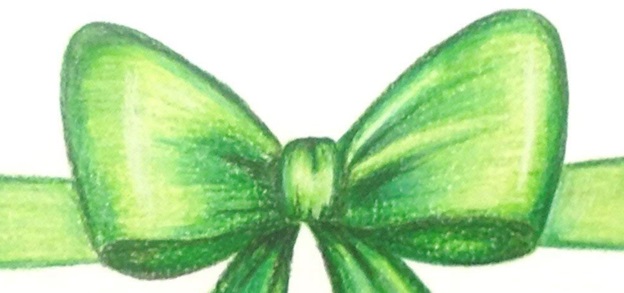 And since we are on the subject of application: the color rolls off of these pencils very consistently.  They feel smooth and buttery and we didn't notice any of the "graininess" that can sometimes be present when applying light color.
It is also worth noting that the barrel is round.  We prefer a hexagonal barrel but that is a personal preference.  After speaking to our readers, it seems about half of you prefer a round barrel and the other half prefer a hexagonal barrel.
Packaging and Presentation –
4.5/5
Derwent has always stuck to a similar approach when it comes to their design: and it works!  These pencils come in an attractive tin case (or if you spend a bit extra they are available in a wood box).  Inside the case or box will be thin plastic trays for protecting and organizing the pencils.  These days, it would be considered almost sacrilegious to not have a set of high-end colored pencils not come in a quality tin or box.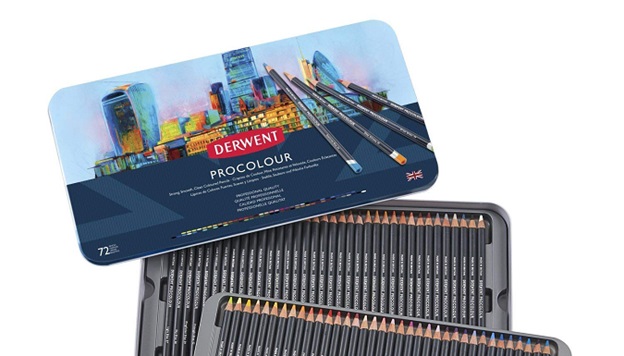 The actual pencils are equally attractive.  They come with a color-matching base that helps for quick and easy identification during use.  Right above this is a slanted brushed silver line.  And above this will be information including the pencil type and the color (as well as its coinciding color code according to Derwent's color charts).  And at the top of the pencil is a stamp proudly stating that Derwent Colored Pencils are made in Britain.
The barrel of the pencils comes in a sort of matte gray/black that we like.  These pencils have managed to look "modern" but not to the point that they look uninviting to use.
Cost – 
4/5
If you have much familiarity with Derwent's higher-end lines of colored pencils, they can be a bit on the pricier side.  While by no means at the level of some of the top Faber-Castell or Holbein lines, they can still fetch a pretty penny. 
That is also the case here.  Depending on which size set you go with, you will find that Derwent Procolour Pencils fall anywhere from the upper Intermediate price tier up to comfortable in the Premium price tier.  This is even more the case if you decide to be fancy and go with a set that comes in the wooden box (albeit it does look fantastic!).
But don't let the sticker price scare you away.  You get a lot of performance for your money with these.  And with proper care, the harder cores should last for a surprisingly long period.
Overall Ranking – 
4.5/5
We came away from our experience with the Derwent Procolour Colored Pencil set extremely impressed.  While some pencils seem to be made without any sort of purpose, these pencils fill a definite need.  Both the Derwent Artist Pencils and Derwent Coloursoft Pencils have some great positives, but they can be a bit hard or soft for certain people's needs. 
The Derwent Procolour pencils aim to find a happy balance between these extremes while still managing to keep the special positives of each intact.  The color application, blending, and usability of this set are fantastic.  And they look equally great.  You will pay a bit extra to enjoy them, but we feel that it is more than justifiable given how good they are.