Best Colored Pencils for Your Budget
Updated by Brandon F. on December 30, 2022
Whether you are shopping around for some colored pencils as a gift or looking to expand your collection, it is important to have a good understanding of what is out there as well as an idea of a budget you have in mind.  
Depending on the desired user or application, it might not be necessary to purchase one of the premium lines.  On the opposite end of the spectrum, if budget constraints are a bit laxer then extra effort should be taken in seeing which set works best for you with the many options that open up.
To assist with this, we have compiled a list of what we believe are the best colored pencils for certain budgets, with even the most expensive option being rather reasonable.  We feel these options do a great job of capturing the quality and color options available at that given price range and we hope that will make the buying experience much easier for you as well.
We understand how important it is to stay within budget, so even the most expensive tier we present is still quite affordable for most people.  You don't have to worry about any of these options costing hundreds of dollars!  
For those that are willing to spend that kind of money on their next set of colored pencils, you can choose just about anything and in any quantity (and we list many excellent choices in this price range in our professional-level colored pencil review section).
Keep in mind that at certain price ranges certain sacrifices have to be made, and we tried to find sets that had minimal shortcomings despite being very affordable.  Believe it or not, there is plenty of great colored pencil sets out there no matter what your budget is!  But if you are after the very best, you will have to pay accordingly.
Before we get into the specifics, here is the table of our picks for quick and convenient viewing.  We also include direct links to our full reviews of each type of pencil if you would like to learn more about them.
| Cost (Amazon) | Name | Our Rating | Pencil Set Size | Our Full Review |
| --- | --- | --- | --- | --- |
| $ | Fantasia | 4.5 Stars | 12 | Link |
| $$ | Koh-i-Noor Progresso Woodless | 3.5 Stars | 24 | Link |
| $$$ | Derwent Watercolor | 3.5 Stars | 24 | Link |
| $$$$ | Prismacolor Scholar | 3 Stars | 60 | Link |
| $$$$$ | | 4.5 Stars | 48 | Link |
Since prices do fluctuate, we are using simple dollar signs ($).  One dollar sign represents the most affordable option and it goes all the way up to five dollar signs which are the most expensive (even though, as mentioned above, it is still relatively affordable).  It is when you multiply these costs by a large number (as in purchasing a large set) that the final price can get somewhat high.
There may be some slight overlap between pencils from time to time, particularly if there is some sort of sale going on or at the opposite end of the spectrum if there is a supply shortage.  However, they typically should be reasonably accurate.  As always, make sure you shop around on various online sites (and even some brick-and-mortar stores) for the best prices.
What are the Typical Characteristics at Each Price Point?
$ – These are the most affordable sets available.  In this price tier, you are typically looking at very low-quality sets or higher-quality sets that are quite small.  Many of these sets will be designed for kids or those just starting with colored pencils and will typically have very hard cores that are typical of budget sets.  If you do go with a higher-end choice, it will be a micro-set that is generally designed to complement a larger set and in no way will have an exhaustive range of colors.
$$ – These are still very affordable.  While a bit more expensive than the cheapest tier, most of these colored pencils will still be on the lower end of the spectrum.  However, the sets will be larger which allows for a more diverse range of color choices.  You still won't be able to find a premium set that will have the choices of colors that will meet your needs, but you might get lucky and find a rather large complimentary set to go with your primary pencils.
$$$ – This tier opens things up a bit and you can begin exploring medium-tier sets that are large enough to be standalone.  There will be a little more variety of cores here including soft cores and even some oil-based cores are available in this area.  With careful shopping, you will even find acceptable premium sets that will have an adequate number of color choices to make most people happy.  If you do decide to stick with budget pencils you can find a very large set that will have a huge range of colors to choose from.
$$$$ – All ranges of pencils can be had in this tier in varying quantities, so you can be somewhat picky about what brand you go with.  Large medium-grade sets will be had here as well as somewhat smaller standalone premium sets.  Cores will be a wide variety of consistencies and materials.  Most of your budget colored pencils, even in their largest set size, will be below this price range so if you are willing to spend this kind of money then you should think bigger.
$$$$$ – All types of colored pencils are at your disposal.  While we still aim for a good deal, you will have flexibility in brand, size, and type.  Even the highest-end lines will have full sets that you can afford at this premium price.  All of the budget and many of the medium-grade colored pencils will be below this tier so we recommend setting your sites on only the best.
$$$$$+ – We don't include any of these sets on this page.  However, they are worth mentioning.  These will be premium sets that are very large, oftentimes in quantities of 50 or more.  Some of these sets can cost several hundred dollars and come in very elaborate and visually appealing packaging and cases.
$

Fantasia – 12 Pack
When looking for extremely affordable sets certain sacrifices will have to be made.  Despite only coming with 12 pencils, this Fantasia set still offers a nice variety of colors.  Couple with Fantasia's quite good blending ability and your color possibilities open up quite a bit.  Even this small set comes in Fantasia's attractive tin case as well.  These would make a great stocking stuffer or white elephant gift for your friends, family, or coworkers.
$$
Koh-I-Noor Progresso Woodless – 24 Pack
For just a little more you can get a nice-performing set of colored pencils with 24 different colors.  This set is large enough to be quite versatile and the blending ability and color intensity are quite good for the price.  This an excellent example of a good starter set that could be had on a tight budget and would not disappoint.
Check Current Prices on Amazon
$$$
Derwent Watercolor – 24 Pack
This is a great set for the price.  You get a high-quality set of watercolor pencils in 24 various colors.  While there were some higher-quantity sets available for this price range we felt that you would take too large of a hit on performance.  These watercolors blend quite well and the color range is quite diverse so they should fulfill just about any color needs that you have.
$$$$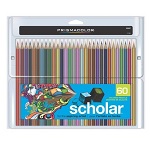 Prismacolor Scholar – 60 Pack
While quite a few of the premium sets could be had in 18 and 24-pack sets in this price range, we decided to go a different route.  For the price, you could pay for a smaller set you could get the massive 60-pack Prismacolor Scholar set.  Don't let the "scholar" tag fool you, as these are high-enough quality to be used in just about any application.  The versatility and color selection coupled with the low price make these a great choice.
Check Current Prices on Amazon
$$$$$
Prismacolor Premier – 48 Pack
If you are willing to spend a bit more on your next colored pencil set then you will not be disappointed.  For those looking to experience a premium set, you can get the 48-pack set of Prismacolor Premiers.  These pencils are widely regarded as being one of the best options out there.  Fantastic blending, great intensity, and a varied color selection make these a great choice for any application or user.  If you are looking to impress someone with their next gift then definitely consider getting some of these.
Making your Colored Pencils go Further
Buying your favorite set of colored pencils is just the beginning.  There are various ways that you can make sure that your colored pencils last longer while still getting just as much (if not more) usage out of them.
A few common tips include:
-Practice and perfect the art of sharpening your colored pencils.  Become familiar with your sharpener and practice to the point where you can create the pencil tip you are looking for without having to shave off a ton of lead
-Know when to use which pencils.  For areas that require a lot of light, and subtle color, don't use your expensive pencils with a hard lead that is designed for detailed areas.  Conversely, for areas that require dominant strokes with a little blending, store away your higher-end pencils that are softer and excel in blending.  We recommend people have a cheaper set of colored pencils around for those areas of their piece that simply need a lot of color application.  These places can wear down a pencil much quicker and using a more expensive pencil rarely affects the final look.
-Properly store your colored pencils.  Make sure that they are stored in a cool, dry place and are properly secured from being dropped or stepped on.