Cezanne Colored Pencils
12-120 count pack
Waxcore
Round barrel
Mid-priced
Pros:
Durable cores with minimal breakage
Good blending
Nice color range in the larger set sizes
Cons:
Have to sharpen a lot
Some colors are more vivid than others
Lack of lightfast information

Cezanne Colored Pencils Review
Last Updated by Brandon F. on 3/17/2023
Cezanne Colored Pencils are a relatively new brand that has been selling quite well lately on various online retailers.  One of our readers actually brought them to our attention and requested that we review them.  So here we are!
Cezanne colored pencils come in various sizes ranging from a small 12-pack set all the way up to a diverse 120-pack.  These are wax-based colored pencils that seem to be trying to capture some of the magic of more expensive sets from brands such as Prismacolor but at a fraction of the price.  The prices fall in the mid-priced range and they come with a 3.3mm core.
Visual Appeal – 4/5
Depending on which set size you go with, you may be somewhat limited in your color options (with the 12-pack set) or have more colors than you may know what to do with (in the 120-pack set).
The smallest size, the 12 pack, only appears to come in specialty sets such as black pencils only, white pencils only, etc.  These small sets seem to focus on those who want to stockpile high-usage colors. 
When you step up to the 24-pack set, you start to get a bit more diversity.  That being said, the 24-pack will still have noticeable color caps.  You will not have a lot of options in regard to blues and yellows, for instance.
If your budget allows, we recommend stepping up to one of the larger set sizes, particularly the 120 pack.  Below is an image of the colors you can choose from.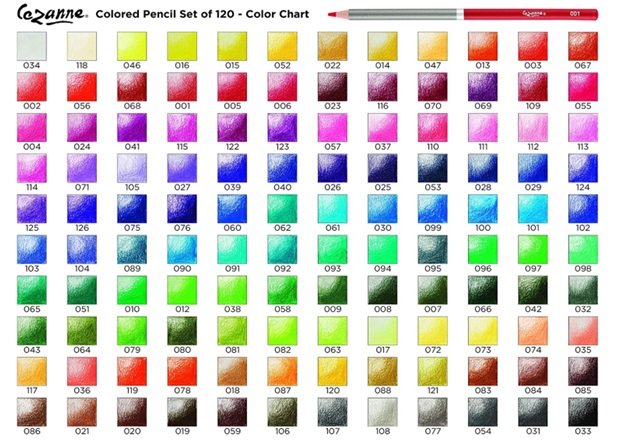 As you can clearly see, there is a nice selection of color options with Cezanne's largest set.  There are plentiful choices of greens, reds, and blues.  However, we were a bit surprised by the relatively little exposure to more natural colors such as browns and tans.  For those of you who like to paint landscapes or portraits of animals/humans, you may be a bit underwhelmed with the colors that you can really use.  But for those of you who like bright colors that "pop", the options are endless.
We couldn't find a chart that lists the names of the colors that Cezanne uses.  They seem to focus more on color numbers.  Some of our favorite color numbers to draw with include 092, 005, and 084. 
It is also worth mentioning that we had a hard time deciphering the subtle differences between certain colors.  For instance, 039 and 040 we nearly identical to us.  We wish that Cezanne would have sacrificed some of these similar colors in exchange for a more natural color selection.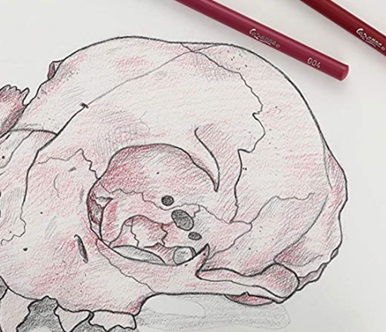 Color output is good for most pencils.  While not quite on par with the color intensity of some of the top premium colored pencil brands, these pencils will suffice for the average user.  And if you do wish to amplify the color some, going back over with a second (or even third) layer seems to help.
One feature that we do miss with Cezanne Colored Pencils is the lack of lightfast information.  This may not be a huge issue to a casual artist, but for those that want to keep their pieces for a long time, knowing the effects of light exposure to the art piece can be quite important.
Usability and Durability – 4/5
One of the biggest positives of Cezanne Colored Pencils is the durability of the core.  We found that these pencils had minimal chipping, even when pushed down relatively hard.  This should help make them last longer and reduce how often you need to re-sharpen them.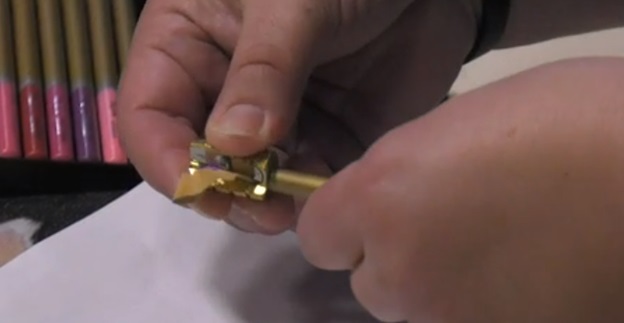 And speaking of sharpening, we were able to get these sharpened to an excellent point while using a manual pencil sharpener. As always, we recommend that you opt for a manual pencil sharpener instead of an electric one when possible.  However, it did take us a bit longer than expected to achieve the sharp point. 
Blending was about average.  We explored layering different colors together and some colors seemed to work better than others.  In some cases, the results were simply a darker version of the first color rather than a proper blending of the two.  But in other cases, the colors merged nicely.  We did find that adding some additional white when blending seemed to help, so it may be worth buying one of the specialty 12 packs of white colored pencils if you plan on using Cezanne Colored Pencils heavily to blend.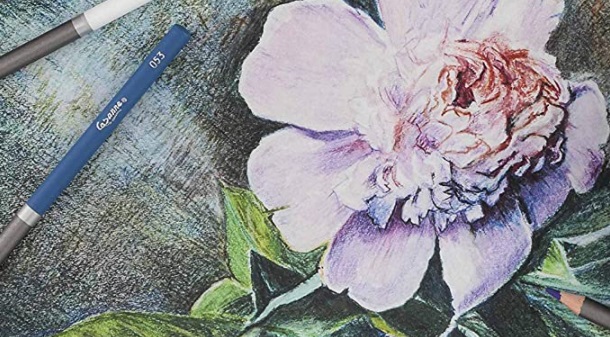 One aspect to be cautious of is wax bloom.  These are relatively waxy cores (which may play a role in their durability).  As such, we found that heavy application of 3 or more layers did result in some wax bloom.  Depending on how heavy your application is, how many layers you applied, and which colors you are using, the wax bloom ranged from a non-issue all the way up to being extremely noticeable.
We did not do any testing with solvents or other blending agents.
The core diameter of Cezanne Colored Pencils is 3.3mm.  Compared to other pencil sets on the market, this falls about average.  We enjoy color sizes around this range.  They provide a nice balance between being able to be sharpened to a fine point for detailed areas of a piece while still covering enough surface area to allow for broad coverage where necessary.
Packaging and Presentation – 3.5/5
Cezanne Colored Pencils come in a typical tin case in larger sizes.  In the smaller sizes, you will have to settle for a lackluster cardboard box.  As you might expect, the largest sizes will have multiple sleeves of colored pencils.  This helps to compact the size, protect the pencils, and allow for better categorization. 
The pencils themselves are quite attractive.  They have a grey upper half and a color-matching lower half.  And dividing these two color schemes is a semi-gloss silver line.  This is an attractive style that helps these pencils stand out from the masses.

Labeled on the pencils are the Cezanne logo and the color code at the base.  As we mentioned above, these pencils don't have a color name or lightfast rating listed, which is disappointing.
Cost – 3.5/5
Cezanne Colored Pencils fall squarely in the mid-price range.  If you do go with one of the larger sizes, your cost per pencil does drop some.  Conversely, if you opt for one of the smaller sizes then you will pay a bit more per pencil. 
Considering the quality and performance of these pencils, we feel that this is a fair price.
Overall Ranking – 3.5/5
We have no major complaints with Cezanne Colored Pencils.  While they don't knock anything out of the park, there are also no glaring issues that would sway us from recommending these to casual or intermediate artists.
The bright spots include a durable core, good color selection, and acceptable blending.  But there are some minor issues such as higher wax bloom than we would have lacked, some noticeable color gaps in the smaller set sizes, and an elevated amount of effort to sharpen to a point. 
We feel that these pencils are priced fairly considering what you are getting.  There will be a step down in performance from the premier colored pencil sets on the market but you will expect to pay significantly more for those higher-end sets.  Conversely, you will find that the performance and capabilities of these pencils are a step above many of the budget sets on the market.