Colored Pencil Vase
Updated by Brandon F. on March 21, 2023
Here at BestColoredPencils.com, we mostly focus on using colored pencils in the traditional sense.  However, the art and crafts community never ceases to amaze us with their originality!  Many people are taking their old (and sometimes new!) colored pencil sets and converting them into colored pencil vases!
While we don't recommend doing this with your expensive set of Faber-Castells, trying this with a more affordable set of colored pencils is a great idea and a fun way to try something different with your favorite art medium.
We browsed around the internet to find some great examples of colored pencil vases and we hope that they will inspire you to try a creation of your own!
Nick Zammeti of NZ WoodTurning made a great video where he shows the process to convert a set of colored pencils into a beautiful vase.  The video is quite long but very informative!  We checked his site out and he has all sorts of other great wood creations so we recommend checking it out if you want to leave the woodworking to the professionals.
Michael from Make it Happen offers up a similar approach.  This video is a bit shorter but it is still quite informative and provides a good outline of how you should approach making your own colored pencil vase.  You can purchase one of his vases from his Etsy account.
So what if you don't have access to woodworking equipment or simply don't feel like going through the hassle?  Have no fear!  There are plenty of vases that you can do that require much less effort and equipment but still look fantastic in the end.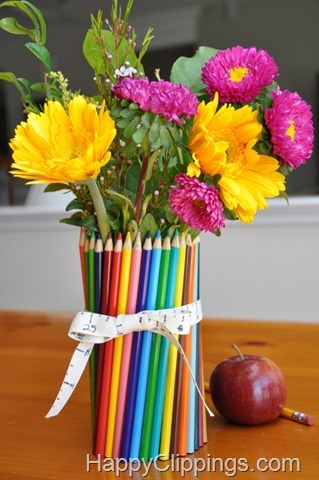 Debbie at Happy Clippings has a great tutorial for making an attractive flower vase with colored pencils that requires a lot less effort (and tools!).  You can see the full process that she took here.
Ruth at Viva Veltoro has another quick and easy method for making a colored pencil vase.  This would make a great gift for a friend, family, or teacher who enjoys colored pencils.  You can see the process that she took here.
Lindsey from The Pleated Poppy.  She combines this attractive vase into a decorative table display that looks great!  See her full tutorial here.
The options are endless!  Another great piece from Eskew Woodworking.
There were just a few of many great examples of colored pencil vases.  We encourage you to experiment with this yourself!