Best Paper for Colored Pencils
Updated by Brandon F. on January 3, 2023
While purchasing a set of quality colored pencils should be a top priority for any budding artist, the product to which you are applying these pencils to can be equally important.  If for example, you are using a colored pencil that is known for laying out thick, waxy strokes and trying to apply it to a paper that does not take well to thick wax, the unique benefits of that particular colored pencil set could very well be muted. 
On the contrary, if you are using a pencil that does not produce a lot of colors and you are using smooth paper that doesn't naturally do a good job of grabbing color from the pencil tip, it just adds to the amount of effort you will have to put forward to get the results you are looking for.
Because of this, it is important to do research and trial and error to find a paper that works for you.  Similar to the colored pencils we review, there is no such thing as the "best" colored pencil paper.  Depending on who you ask, you may get a dozen different answers. But that doesn't mean that there isn't the best paper for colored pencils given a specific application or to be used with a specific type of colored pencil.  
Before we go into more detail, we have displayed our top choices in an easy-to-read table that goes over the key points.  If you would like to read more detailed analyses of each colored pencil paper then please scroll below.
| | Product | Price (Amazon) | Paper Dimensions | # of Sheets |
| --- | --- | --- | --- | --- |
| | Strathmore Series Sketch Pad | $ | 9" x 12" | 100 |
| | Canson Universal Sketch Paper Pad | $ | 5.5" x 8.5" | 100 |
| | Strathmore Medium Weight Drawing Paper Pad | $$$ | 8" x 10" | 24 |
| | Rising Stonehenge Drawing Pad | $$$$$ | 9" x 12" | 15 |
To get a better idea of the many factors that go into determining a paper, we have broken down some of the common specifications below.  While some of these are conventionally more popular to use a colored pencil it is by no means universal and, depending on the artist and the end goal that they have in mind, a less-conventional type might be preferred in some circumstances.  Again, we encourage you to try a few different options and see what works for you!
Finish
The finish of a paper is related to its roughness or texture.  A more texturized paper is going to be rougher to the touch.  On a small scale, these rougher papers are forming crevasses in the paper, which can allow the color to settle or pocket inside them, which can result in a deeper, more vivid color in some cases. 
The finish of the paper is extremely important as the color needs something to grab onto.  An extremely smooth paper may have a hard time grabbing color while an extremely rough paper may grab too much color.
Common finishes include rough, cold press, and hot press.  Rough is as its name suggests: very bumpy and full of texture.  Cold press is the most common and popular, as it tries to find a happy balance between having texture but also being smooth enough to allow for more details with pencils. 
Hotpress is the smoothest and is made by literally running recently formed sheets through heated rollers, flattening the paper.  It is intended for highly detailed works where intricacy is more important than deep layers of color.
Paper Weight
There are many different weights of paper.  The weight isn't the literal weight of the final product, but rather it is determined during the pulping stage in the paper-making process.  This topic can be quite confusing, especially when trying to convert between measuring units, so to keep things simple just assume that the thicker the weight, the more wax/paint/etc. the paper can handle before falling apart. 
For someone who plans to tack on many layers, a higher-weight material might suit them better, while for someone doing a light sketch with a single layer a lower weight would probably suffice.
Fiber
The fiber relates to the specific material that is being used to make the paper.  The two most common types are cotton and cellulose.  However, cotton can come from various sources including bamboo, hemp, flax, jute, etc.  Cotton will typically last longer if of high-quality but it coincidentally also tends to be more expensive.  But if you are after the best feel, then we recommend going with cotton (even if it does cost a bit more).
Sizing
"Sizing" in this case is in regards to how water-resistant the paper is.  In other words, if the size level is higher, less moisture and pigment will be absorbed.  While this might sound like a bad thing, it is intended to help preserve the paper and keep it looking crisp over time.  It is essential to find a happy balance between having enough absorbency to soak up the color you are applying but also not absorbing to the point that you overwhelm the paper and it falls apart over time.
Stretch levels
Some papers are intended to be stretched before use.  These papers can vary in the degree that you should stretch them.  Variations will exist between sketchpads, rolls, and single sheets.
Dimensions
An obvious choice, the paper comes in a wide variety of sizes.  Depending on how large of a piece you want to tackle, you might have to shop around to find a larger cut size to go with.  On the contrary, if you wish to simply doodle on a mobile medium a typical small sketch pad would suffice.
As you can tell there are a lot of considerations to make in your next paper, especially when using colored pencils.  A paper that does well with oil pastels might not work with colored pencils as well, for instance.  Other obvious factors include your budget and the availability of the paper.  That being said, we have put together a small list of our favorite choices specifically colored pencils.
But first, check out this helpful video for some more great input on the subject of colored pencil paper.
Our Top Papers for Colored Pencils
Strathmore Series Sketch Pad
Check Current Prices on Amazon
This is a general-purpose paper that is of medium weight.  It is a nice, all-around solution.  It is rough enough to absorb some good color from your pencils but still smooth enough to allow for a nice detail.  At 9" x 12" it is large enough for both simple doodles as well as more established pieces.  It is also a very reasonable price.  We have a ton of experience with this particular paper and think very highly of it.
Canson Universal Sketch Paper Pad
Check Current Prices on Amazon
This Canson paper is relatively smooth, making it great for more intricate sketches.  While you won't get as much color laying out as in some of the rougher papers, there is still an adequate amount and the extra control you get from the smooth surfaces is a nice plus.  This is a much smaller product, coming in at only 5.5" x 8.5" so it is easier to carry around but if you plan on doing a larger work it might not be a good choice.
Strathmore Medium Weight Drawing Paper Pad
Check Current Prices on Amazon
This is a much thicker paper, coming in at 80 pounds, and as such, it takes color very well.  The pages stay plenty crisp and can handle quite a bit of abuse and strokes without falling apart.  It is also a decent size, with 80 square inches of workspace.  However, being a higher quality paper, it costs a bit more per sheet.  If you are wanting to test the color output capabilities of your pencils, this is a fine choice.
Rising Stonehenge Drawing Pad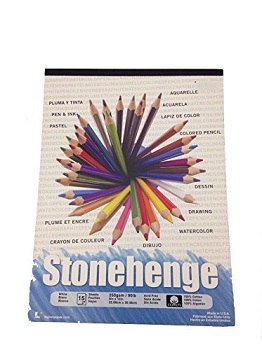 Check Current Prices on Amazon
We like this paper and, coming in at a nice 140-pound weight, it can take plenty of colors and hold up.  The texture is very nice, although you might have a bit more difficulty trying to lay down extremely detailed areas.  Also, per sheet, this is by far the most expensive paper of the group, but if you are willing to pay the premium it will likely produce some of the most impressive results in the right hands.