Prismacolor Premier Softcore Colored Pencils
12-150 count pack
Wax core
Round Barrel
Budget to mid-priced
Pros:
Wide Range of Colors
Great Intensity
Excellent Blending
Superb Price
Cons:
None!

Prismacolor Premier Softcore Colored Pencils Review
Updated by Brandon F. on July 8, 2020
The Prismacolor Premier Softcore Colored Pencils are one of the must-have choices for anybody who is wanting some of the best soft wax colored pencils you can get.  These pencils are silky smooth, have excellent color choices, and are fantastic at blending.  Minor complaints such as breakage and lead shattering are overlooked when you look at the bargain that these are compared to other higher-end brands and the sheer joy that they are to use.  They come in packages ranging from 12 to 150 count and have a 5mm core and 8mm hexagonal barrel.
Visual Appeal – 
5/5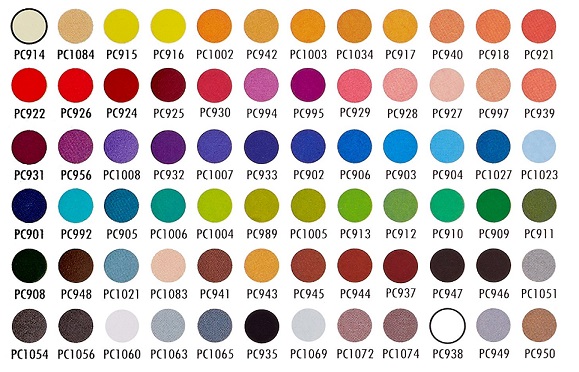 The wide range of colors available is vivid and consistent.  Did we mention the wide range of colors?  Up to 150, in fact!  You don't have to go with their largest set to enjoy a nice color variety but if your budget allows, we recommend it.  The impressive color choices will simply wow you.  In particular, the selection of reds and blues is very diverse and allows you to open up your creativity.  We had a lot of fun trying out these colors while drawing birds, flowers, and even attempted to color in an old Corvette!
Their great ability to blend makes it so that even if there is a particular hue that isn't found already in a pencil, you could easily create it to your liking (which means that you can go with one of the smaller sets and still have everything that you need).  Color application is thick, creamy, and consistent and if you push down with the pencil you can make some dominating strokes that stick out from the page.
Prismacolor colored pencils are just a lot of fun to use.  Their creamy color texture also makes them extremely versatile and ready and able to tackle just about any type of picture you feel like creating.  Our favorite pieces to use Prismacolor Premier Colored Pencils include outdoor settings and portraits but they will feel right at home in any setting.
Usability and Durability – 
4/5
The thick core and quality construction means that these pencils should hold up to even the most "passionate" use in most cases.  Some people prefer a hexagonal barrel over a round barrel for easier grip but it typically isn't a dealbreaker either way.  There have been some reported issues of this soft wax causing some minor breakage during use on certain pencil colors.  It isn't a huge issue and seems to only affect certain pencils in the set.
When this does happen, it requires an above-average sharpening effort to get a point capable for the finer details (although there are better pencil alternatives, even by Prismacolor, for finer details AKA the Verithins).  However, for larger areas, these pencils will shine and give you all the color you need with relative ease by outputting all of the color depth you could want.   And experimenting with layering various colors and blending them is an absolute blast and something that everyone should experience.
Packaging and Presentation– 
3.5/5
All sizes of Prismacolor Premier Colored Pencils (of which there are many!  12, 24, 36, 48, 60, 72, 96, 132, and 150 count are available) come in a tin case.  The look is traditional and attractive.  There have been reports of some lead shattering upon opening a new case but this could be due to a host of reasons and more research would be necessary to conclude it is directly related to case construction.  We suspect that as long as you avoid dropping the pencils, they should hold up quite well.
The pencils themselves have a color-matching round outside core with the type of color stamped on. In addition to the color, you will find Prismacolor's internal color code, the pencil brand, and the pencil type.  All of this is in classy silver leaf.
Cost – 
5/5
The prices for these are in the budget to mid-range, which is a fantastic deal for the quality you are getting.  These pencils do everything well and are viable competition to even the most high-end colored pencils on the market.  You will find that a larger discount per pencil exists if you buy a larger set so save up and go with the big set!
Overall Ranking – 
4.5/5
The Prismacolor Premier Colored Pencils are a great addition to an artist just starting up to a seasoned professional.  The immense color options, alluring color qualities, awesome blending, ease of application, and the reasonable price should put them at the top of anyone's list.  They are forgiving but yet will allow you to test their limits under the right hands.  There are also plenty of sizes for every budget and palate.  If you are after a set of colored pencils that you will keep wanting to go back to again and again, this is the set you should check out.