Derwent Inktense Pencils
1-72 count pack
Wax core
Round barrel
Mid-priced
Pros:
Extremely Intense Visuals
Good Color Selection
Great Price
Cons:
 Not a lot of Light Colors

Derwent Inktense Watercolor Pencils Review
Updated by Brandon F. on June 23, 2020
The Derwent Inktense Watercolor Pencils are a unique offering from Derwent for those times when watercolor applications need some added intensity.  The goal is to have the intense colors of a traditional ink pen while still having the ability to blend easily and apply over a large area.  They are available in singles up to 72 packs and offer a nice variety of 71 different intense colors.  They have a wax-based 4mm core and an external 8mm round barrel.
Visual Appeal – 
3.5/5
These pencils are just as promised: you will be hard-pressed to find a more visually intense range of colors coming from a watercolor pencil.  The colors can jump out the page and the sheer brightness of some of them is quite impressive.  This is particularly true in the pinks, yellows, and oranges (what few there are).  This makes them great for drawing flowers, fish, or other bright creatures.
However, this comes at the cost of not having very many light colors in the set (even the largest ones).  We aren't sure why Derwent has decided to limit the choices of colors that "pop" the most.  That being said, most color palettes can still be satisfied since these are pretty easy to blend.  The major shortfall will be people who prefer to stick with lighter palettes as the added blending you will have to do to achieve the color you are looking for might be more effort than you like.
Usability and Durability – 
3.5/5
An important note is that once these watercolor pencils dry they are permanent so it is important to get the color where you want it before applying.  It will be next to impossible to blend or lighten them up after the fact short of physically layering other materials on top of them.  
The application feel is about normal for a watercolor pencil and since these are not overly waxy there will be a bit more "feel" to them, especially on rougher surfaces.  The pencil itself is quite strong with its 4mm core.  Sharpening can be a bit burdensome but proper methods can result in a quite sharp point for those detailed areas.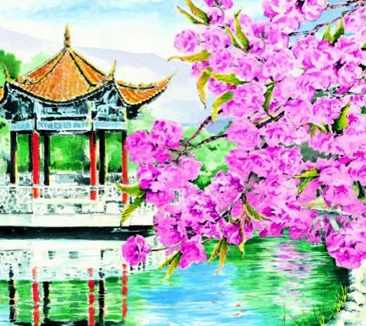 For applying dry, the Derwent Inktense Watercolor Pencils are nothing amazing.  You have to push down pretty hard to get a lot of colors out.  Once you do expose the color to the water, however, they loosen up quite a bit.  This helps to spread around the vivid shades and do some cool things.
Packaging and Presentation – 
4/5
A wide range of options are available: 12, 36, and 72 packs can be had in the tin container while 18, 48, and 72 packs can come with the classic wooden box.  The pencils themselves are a deep blue with colored accents on the base.  The type and color of the pencil are stamped on the outside.  This is a solid, proven look that Derwent has used for many years.  That being said, they have recently performed a facelift on the case itself but the pencils, for the most part, look about the same.
Cost- 
5/5
These pencils vary in the mid-priced range, depending on the type of case and quantity.  Overall this is a great deal if you are looking to get some high-quality watercolors with brightness and intensity that you wouldn't normally find anywhere else outside of conventional ink.  Just make sure you understand their somewhat polarized approach.  Also, these watercolor pencils are best used as a support for a larger, more traditional set.  This is even more so since your color options in the lighter range are quite lacking.
Overall Ranking – 
4/5
Like many of Derwent's pencils, the Derwent Inktense Watercolor Pencils have their time and place of application, and when those times arise there isn't much else better in the business.  The colors these colored pencils produce allow for some spectacular visuals that can jump out of the page. 
However, for some of the lighter environments or ones that don't require so much vividness, these might be a bit too much and you will probably be better off sticking with a more traditional set.  We recommend adding these to your collection once you have a solid foundation set underneath it.