Sargent Art 

Colored Pencils
12-56 count pack
Wax core
Round barrel
Budget-priced
Pros:
Pretty Good Color Accuracy
Nice Variety on Color Wheel
Good Price
Cons:
So-so Intensity
Not very Good Blending

Sargent Art Colored Pencils Review
Updated by Brandon F. on July 13, 2020
Sargent Art Colored Pencils are targeted for beginners and have a good price point to support that.  There are 12 to 56 count sets available, so on the upper end, there is a good color selection.  The color application can be a bit weak so you might have to be pretty aggressive with these to get the tones you are looking for.  However, they are relatively strong so they should be able to handle a decent amount of abuse.  The 3.3mm wax core is wrapped in a round wood outer shell.
Visual Appeal – 
3.5/5
The colors seem to be pretty accurate for the most part.  In the higher piece sets, there is a pretty good variety of choices for most applications.  You will find quite a few reds and oranges as well as a solid selection of darker purples and browns.
Intensity levels are about average and if you press down you can bump them up a few notches.  The blending ability is not very good so don't expect a lot of color exploration, which we miss having.  
There is also a small issue in that different pencils will put out various levels of wax/clay material and pigmentation.  Some strokes from one pencil might feel a bit chalky while another will feel much smoother and this could affect how the strokes appear on the paper.
Usability and Durability – 
3.5/5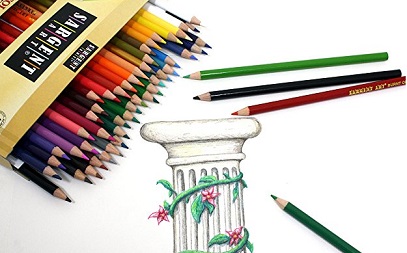 These are relatively strong so you shouldn't have to worry too much about breaking them when applying your typical pressure ranges.  As mentioned earlier, different pencils might have a slightly different feel to them during use.  Also, blending with these is quite laborious and it is not recommended. 
Finally, extra care should be taken while sharpening these as the various characteristics of the core can result in lots of breaking issues if a conventional sharpener is used.  It also would have been nice to see a hexagonal outside instead of the round but this is a minor complaint and come often be up to personal preference.
Packaging and Presentation –
3/5
These pencils come in a thin cardboard box similar to many other budget offerings.  It keeps the pencils in place but doesn't do much in terms of extra protection and isn't all the aesthetically pleasing.  The pencils themselves are a typical round exterior with color-coordinated paint and gold stamping.  The style isn't bad but it isn't anything new or original, either.
There has been a recent update to the outside packaging of these pencils.  The new design is a little more attractive but the pencils remain the same as far as we can tell.
Cost –
3.5/5
Prices for these are in the budget range which is normal if not slightly below the average you'll expect to pay for most beginner pencils.  At this price, there are no complaints on the cost front, and the performance and color selection you get is acceptable.  We'd like to see a bit better color and blending ability but for those on this tight of a budget you just can't complain too much.
Overall Review –
3.5/5
Sargent Art Colored Pencils are an all-around "good" pencil that should check all the boxes for a beginning hobbyist or student.  These will hold up to abuse quite well and the color, while nothing magnificent, is plenty acceptable for this range.  Decent color choices mean that most artistic endeavors can be accomplished without too much outside help from what is available in this set.  And that is a good thing because what you see is what you get and don't expect blending for other colors to come very easily.  This is a good starter to intermediate set for an aspiring artist.