Fantasia Artist Colored Pencils
12-36 count pack
Wax core
Hexagonal barrel
Budget to mid-priced
Pros:
Good Color Intensity and Variation
Pretty Durable
Extremely Well-packaged
Good Price
Cons:
 Could Use a Bit More Color Selection 

Fantasia Artist Colored Pencils Review
Updated by Brandon F. on July 1, 2020
The Fantasia Artist Colored Pencils are the mainstream colored pencils offered by the relatively small Indonesian company.  Available in 12 to 36 pack sets, these are advertised as being a perfect combination of colors that also combines great blending and high color concentrations.  Overall, this description is pretty accurate and it is all presented in an attractive presentation and for a great price. 
They have a "medium-hard" level wax hardness which gives them a nice combination of blending ability and feel as well as the necessary durability people come to expect.  They have a hexagonal outer wood shell.
Visual Appeal – 
4/5
For being a beginner-to-intermediate level pencil these pencils have very good colors.  Intensity is on point, although it still won't quite keep up with the super soft waxes of some of the higher-end brands.  That being said, they are still hard enough to promote good shading and being able to do detailed work as well. 
Furthermore, these colored pencils blend very well so, despite the largest color selection only being 36, any other desired hue can easily be achieved with some interesting mixing compositions.  It would still be nice to have a few larger set sizes, however.
In regards to how they handle layering, they are slightly above average.  Certain colors do seem to overpower other colors so some experimentation will have to happen.  For example, we have a hard time trying to get certain lighter yellows to be able to play nicely with darker greens and blues underneath. 
You also can go light with these pencils and still produce color.  So in the cases where you want to put down a darker color and then layer above with a lighter color, apply the first layer with very little pressure.  Next, follow up with heavier pressure on the next passes.  You should be quite pleased with the results!
Usability and Durability – 
4/5
The medium-hard wax core means that these will be relatively durable and somewhat easy to sharpen while still giving you the communication and "feel" you look for in softer pencils.  The application is overall smooth and consistent and as mentioned before different colors mix quite well with proper application pressure. 
They are still hard enough to be sharpened to a point and keep their edge to take care of the intricate details you might come across.  The hexagonal exterior allows for good grip and control and is a feature we tend to prefer.
Packaging and presentation – 
4.5/5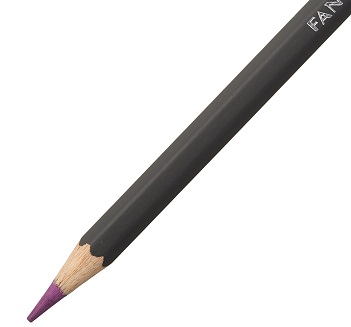 The Fantasia Artist Colored Pencils are well-packaged for the price and you honestly would not expect them to be in the price bracket they are looking from afar.  All choices come in an attractive (albeit a bit flimsy) case with lovely interior gold accents and labeling.  The pencils are color-coordinated and have an attractive blue exterior base with white lettering that displays the brand name and pencil color number.  The remaining portion of the pencil is an attractive dark gray color that is rather classy.  It is a very nice piece.
Cost – 
4/5
Prices for these pencils are budget to mid-priced which puts them a bit higher than the beginner and student level, but still well below the more premium lines.  For this, you get a great-performing pencil that is also packaged quite well. 
For those looking to explore more with blending and higher-level methods but don't want to open up the pocketbook for one of the high-end lines, this is a great compromise.  And for most novices, the slight edge that you might have with a higher-end pencil is likely not worth the substantial price increase.
Overall review – 
4.5/5
There aren't any major complaints with the Fantasia Artist Colored Pencils.  A few more colors would have been nice, but this is only minor as any color is readily achievable with the great blending you have in front of you.  Color could also take a notch up for certain pencils but it is by no means a huge issue. 
And for the overall performance and user-friendliness of these, any other minor complaints about specific colors are not worth worrying over.   And, of course, they are quite affordable and should be within most people's budgets.  We highly recommend these pencils for any aspiring artist or even a professional who wants a more cost-effective set to hone their skills.
*It is worth noting that according to one of our readers there is a lot of overlap between Reeves and Fantasia colored pencils where the cores may be the same.  We are looking into this more and will provide an update when we can*