Arteza Professional Colored Pencils
48-72 count pack
Wax core
Round barrel
Mid-priced
Pros:
Superb Blending
Excellent Packaging
Reasonably Priced
Cons:
A Couple of Colors Could Use a Boost

Arteza Professional Colored Pencils Review
Updated by Brandon F. on December 28, 2022
Arteza is a relatively new art company that has been taking the online marketplaces by storm with its diverse lineup of pens, art brushes, pencils, sketchbooks, and more.  In this review, we will be focusing on their highest-end lineup of colored pencils: their Professional line. 
This set, according to Arteza, is perfect for blending and comes with a soft, wax-based lead that produces a great tone and rich colors.  It comes in a protective tin case and is aimed to compete with the top professional-grade colored pencils on the market but for a fraction of the cost.  They are available in 48 and 72-pack sets.
Visual Appeal –
4/5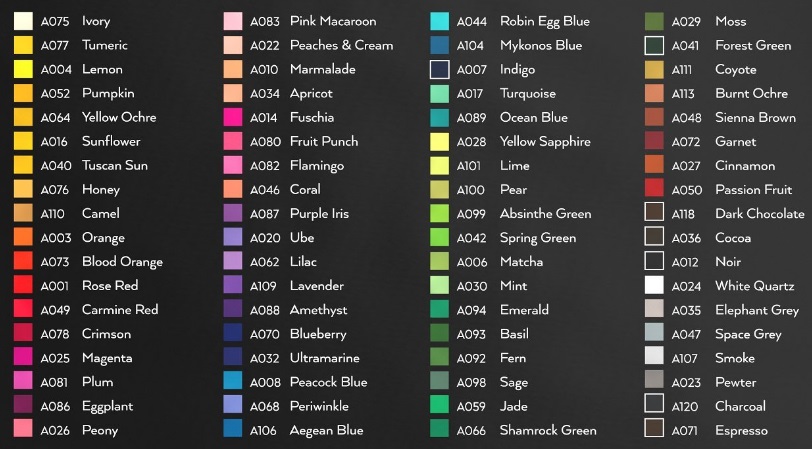 When we first heard of Arteza's reputation of being able to compete with the heavy hitters of the professional colored pencil world, we were a bit hesitant.  We have heard those claims time and time again, and almost always they end up being a bunch of smoke.  That being said, we came away quite impressed with what Arteza has managed to do here.  The color output is quite good in most of the colors.  This is particularly true in the browns and greens.  There are a few purples and pink shades that could use a slight boost in intensity but this is a minor complaint.
As for blending, we found it to be excellent and far better than most other pencils at this price point.  Being able to blend this well, opens the door for some cool coloring approaches and also fills in the color selection void that the smaller set possesses.  Speaking of color selection, we recommend spending a bit extra and going with the 72-pack set if your budget allows it. 
It comes with a lovely selection of yellows and purples.  We do wish that they would swap out a couple of the yellows for some deeper blue colors, however.  These cores are made of wax and we found wax bloom to be about average compared to other priced pencils on the market.  After 2 to 3 layers of color, the wax bloom can start to appear.
Usability and Durability –
4.5/5
It is worth mentioning again how great Arteza Professional Colored Pencils are at blending.  Whether you blend by hand, by using an eraser, or by using a solvent, you will find that manipulating these colors is much easier than with other pencils at this price point.  We aren't sure if we are ready to exclaim that their blending is better than that of Prismacolor Premier or Faber-Castell lines, but it is certainly close and a worthy competitor. 
Another nice bonus is that, while these aren't the same as the Arteza Watercolor Pencils (which we will write about in their review), they are semi-water-soluble.  This is good for those who want to explore the unique traits of a watercolor pencil but without spending the money for a set right away.
It is worth noting that these wax leads are above average in hardness.  This isn't a big deal but it does mean that you will need to be more careful when pushing down heavy as it can make the leads more likely to crack and chip.  A nice benefit of the harder lead is that you can easily sharpen them to a very sharp point, making the Arteza Professional Colored Pencils great for detailed areas of an art piece. 
The core size is about average and finds a happy medium between being large enough to produce an adequate amount of color and small enough to allow for good user control.  All but the most advanced artists should feel that the performance of these pencils is adequate.
Packaging and Presentation –
5/5
We like the packaging you get here.  No matter if you go with the 48 or 72-count set, both come in a sturdy protective tin case that is very similar to what you get with higher-end pencils.  The pencils are then placed in thin plastic trays with embedded grooves to keep them in place.  While the plastic is very flimsy, it does the job as long as you don't try to move the pencils around while just holding the plastic tray.
The pencils themselves come in a solid-colored outside barrel that is designed to match the color of the pencil's output.  We have heard complaints that the color of the barrel sometimes doesn't do a great job of matching the output of the pencil, but we didn't have any major issues with this.  Labeled on the pencil are the color, the coinciding color code, and a star rating system from 1-star to 3-stars.  These stars are the lightfastness ratings and are as follows:
*= 10 to 25 years
** = 25 to 100 years
*** = 100 years and above
This is a cool idea and the first time we have seen a colored pencil brand do it.  Finally, there is a subtle aesthetic addition of two lines that go across the base of the pencil.  We prefer the base to be dipped in a solid white or gray color but this is a minor complaint.  All of the letterings are in silver leaf.
Cost – 
4.5/5
For what you get in terms of performance, usability, and packaging, the asking price is fantastic.  While not as affordable as a budget set of Crayolas, the Arteza Professional Colored Pencils have a noticeable bump up in quality but without nearly as huge of an increase in the sticker price.
Overall Ranking – 
4.5/5
We came away from our first experience with Arteza Professional Colored Pencils extremely impressed.  The combination of great blending, nice color output, and decent color selection is a great lineup of traits to have for any colored pencil.  But when you then see the asking price, it pushes these up to a higher level in terms of value.  Add to this the great packaging and unique features such as having the lightfastness of each color printed directly onto the barrel and you have yourself a home run.
There are a couple of small issues such as a lack of certain color choices and the color intensity may vary from one specific pencil to another, but these are easy to overlook when you consider the relatively low asking price.  While we aren't going to say that these pencils will outperform the heavy hitters of the industry (that can cost multiple times more), they are close enough to warrant a serious look for anybody on a tighter budget but still wanting quality.